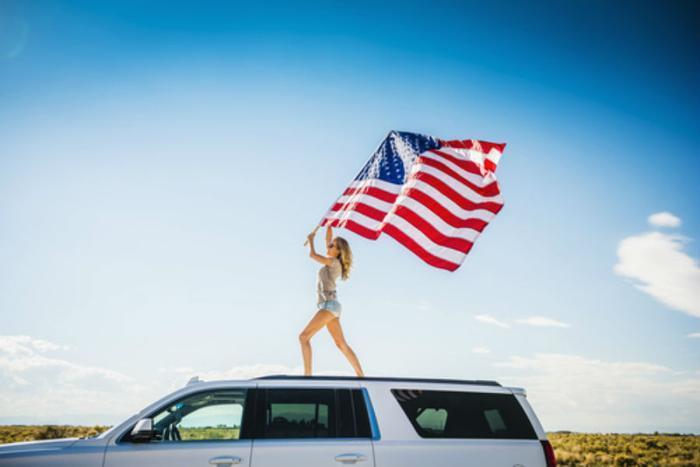 Consumers taking an Independence Day holiday road trip will find gas prices that are higher than a week ago, but they're lower than last Fourth of July.
The AAA Fuel Gauge Survey shows the national average price of regular gas is $2.74 a gallon, six cents higher than last week. Motorists were paying an average of $2.86 a gallon exactly a year ago.
The average price of premium is $3.31 a gallon, up six cents in the last seven days. Diesel fuel, on the other hand, has barely risen; it's just a penny higher in the last week, at $3 a gallon. AAA reports that about 25 states have seen gas prices go up by at least 5 cents a gallon over the last week.
"For the more than 41 million motorists hitting the road this week to celebrate the Independence Day holiday, they will find gas prices cheaper than Memorial Day weekend, but more expensive than they've been paying the last few weeks," said Jeanette Casselano, AAA's spokesperson. "It's typical to see increases at the pump ahead of the holiday, but we may see prices continue to jump throughout the month due to refinery interruptions on the East Coast, increasing demand and fluctuations in crude oil price."
In fact, the loss of a key refinery in Pennsylvania last month because of an explosion and fire is being felt across wide areas of the eastern U.S., which normally has some of the lowest gas prices in the nation. 
Mississippi still has the lowest average gas price in the nation but the price at the pump there has risen seven cents a gallon in the last seven days.
The states with the most expensive regular gas
These states currently have the highest prices for regular gas, according to the AAA Fuel Gauge Survey:
California ($3.77)

Hawaii ($3.64)

Washington ($3.35)

Nevada ($3.30)

Alaska ($3.26)

Oregon ($3.22)

Illinois ($3.04)

Idaho ($2.99)

Utah ($2.96)

Pennsylvania ($2.91)
The states with the cheapest regular gas
The survey found these states currently have the lowest prices for regular gas:
Mississippi ($2.34)

Alabama ($2.36)

Louisiana ($2.37)

Arkansas ($2.37)

South Carolina ($2.39)

Oklahoma ($2.43)

Tennessee ($2.45)

Missouri ($2.45)

Texas ($2.46)

Virginia ($2.46)