---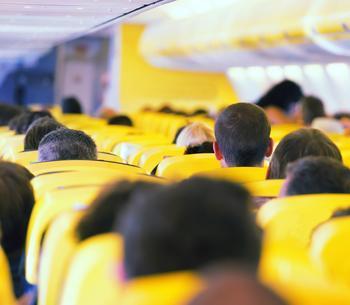 As airlines work to squeeze in a few more passengers, they may collide with U.S. Senator Richard Blumenthal (D-Conn.), who wants to require that airlines provide enough seat width and leg room to protect passengers' health and safety.
"The incredible shrinking airline seat is more than an inconvenience, it is a serious threat to the health and safety of passengers that requires immediate FAA action," Blumenthal said in a prepared statement. "I am calling on the FAA to adopt minimum seat space standards, and to enforce a moratorium on further shrinkage of space until safe standards are adopted."
The news coincides with a report that United Airlines is adding a seat to each row on 19 of its 74 Boeing 777 wide-bodied jets, for a total of 10 seats per row. 
Blumenthal says the cramped conditions on airliners raises doubts that passengers can be evacuated quickly in an emergency. Also, he says medical experts have raised serious concerns about increased risk for deadly blood clots and pulmonary embolisms. Passengers themselves are so fed up that there have been increased reports of fights over seat space, Blumenthal notes.
Animals better off
In fact, says Blumenthal, in some ways animals get better treatment than humans. 
"We require minimum cargo space for traveling animals, yet inexplicably and inexcusably have no such measure to protect human passengers. A sardine may in fact enjoy greater protections than the flying public today," he said.
Blumenthal plans to file an amendment to the FAA's reauthorization bill when it's considered before the Senate Commerce, Science and Transportation Committee, on which Blumenthal sits.
Joining in the effort is Sen. Charles Schumer (D-N.Y.), who says shrinking legroom and cramped seats are the number one complaint he hears from his traveling constituents.
"Consumers are tired of being packed into airplanes like sardines, and so, it's time for the FAA to step up and stop this deep-seated problem from continuing," Schumer said.
---