---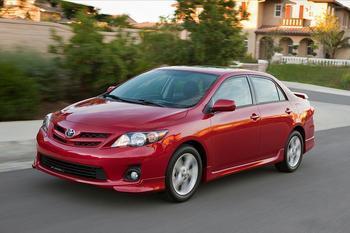 Consumers generally decided that small and economical was the way to go last month, giving several carmakers their best June sales month in years. Though not all the sales figures are in, TrueCar.com estimates total auto sales for June 2013 will be 1.38 million units, up 7.8% over June 2012.
Robust monthly car sales continue to drive the economy forward. According to Kelley Blue Book, the estimated average transaction price for light vehicles in the U.S. was $31,663 in May.
"Consumer confidence continues to be a strong factor, along with pent-up demand and for now, low interest rates, bringing shoppers into the showroom to purchase a new vehicle," said Alec Gutierrez, senior market analyst of automotive insights for Kelley Blue Book. "Ford has been one of the biggest beneficiaries, with transaction prices up nearly 3%."
Ford saw June sales rise 13%, recording its best June since 2006, a year before the start of the recession. Ford credits the Escape for the increase, as the model racked up its fifth straight record sales month.
Strong truck sales
The all-new Lincoln MKZ posted best-ever June sales and best quarterly sales performance ever. Sales of small cars – including Fiesta, Focus and C-MAX – totaled 35,851, up 39% over last year Sales of Ford trucks rose 20%.
"In June, we continued to see strong demand across the entire lineup," said Ken Czubay, Ford vice president, U.S. Marketing, Sales and Service. "We're particularly encouraged by strong retail share gains, especially in coastal markets, where the combination of great design and fuel economy is resonating with customers – including many buying a Ford for the first time."
Chrysler reported its best June since 2007 and its 39th straight month of year-over-year sales gains. Seven Chrysler Group vehicles set sales records in June. Ram Truck brand sales were up 23%, the largest%age sales gain of any Chrysler Group brand in June and best June sales since 2007.
Toyota leads the way
Toyota reported June U.S. sales of 195,235 units, up 14% over last June and more than any other carmaker selling in the U.S. Consumers showed particular interest in the Corolla and the Prius hybrid, as well as the Camry.
"The auto industry led the economic recovery through the first half of 2013, kicking off a strong summer selling season, which we expect will carry into the second half of the year," said Bill Fay, Toyota Division group vice president and general manager. "Sales in June were solid, and demand didn't skip a beat."
Honda reported sales of 136,915 units for the month, an increase of 9.7% over June 2012. Odyssey sales topped 14,000, up 26% for the month with the refreshed 2014 model hitting dealerships at the end of the month. The Accord continued to be a best seller, with sales volume rising 20.4% year-over-year.
"Honda was firing on all cylinders in June with the hot-selling Accord joined by the Fit, CR-V, Odyssey and Pilot all posting their best sales of the year," said John Mendel, executive vice president of sales at American Honda.
Hyundai sales rose in June but by a much more modest 2%. Hyundai sales were paced by a 26% surge in sales of the economy model Elantra.
"Our Hyundai Assurance Connected Care program, now free for three years on most Hyundai models, continues to draw customers to our website and showrooms," said John Krafcik, president and CEO of Hyundai Motor America.
Kia reports strong sales of its new 2014 Cadenza helped it sell more than 50,000 units for the second straight month. But the Optima midsize sedan was the brand's best seller for the 19th consecutive month, and together with the Sorento CUV – both built in West Point, Georgia – accounted for more than 40% of Kia's June sales.
The Soul urban passenger vehicle also recorded strong monthly sales of 11,287 units.
Porsche nails it
While most consumers opted for economy and value in June, plenty were drawn to style and sportiness. Porsche Cars North America reported its best June on record.
The Cayenne line experienced the most growth, with sales up 77% over June 2012. The diesel and GTS models together accounted for 42% of overall Cayenne sales. The recently-launched Boxster and Cayman models also had strong months with 811 units sold – up 66% compared to last year.
---