---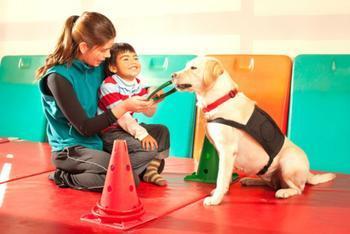 Being a parent to a child with Autism Spectrum Disorder (ASD) presents a unique -- and often stressful -- set of challenges.
But researchers have discovered that having a four-legged family member may help offset some of this anxiety and stress.
The results of a long-term study by the Human Animal Bond Research Initiative (HABRI) showed that pet dogs can be invaluable sources of stress reduction in homes with children on the Autism spectrum.
Previous studies have found that animal-assisted therapy can positively impact the lives of children with autism. But upon honing in on the effects of dogs on families with children on the autism spectrum, this study found that a dog doesn't have to be specially trained in order to helpful.
Improved family function
The whole family unit can experience improved function as a result of having a dog, says lead researcher Daniel Mills, Professor of Veterinary Behavioral Medicine in the School of Life Sciences at the University of Lincoln.
"We found a significant, positive relationship between parenting stress of the child's main caregiver and their attachment to the family dog," Mills said in a statement. "This highlights the importance of the bond between the carer and their dog in the benefits they gain."
Compared to households without dogs, researchers noticed a reduction in dysfunctional parent-child interactions in households with a dog. And the stress-shrinking effects of a dog seem to stand the test of time.
When researchers checked in with families two and a half years later, they found that stress levels continued to decline steadily, years after the dog was first acquired. The same reductions were not seen in households without dogs.
The study was published in the American Journal of Veterinary Behavior.
---