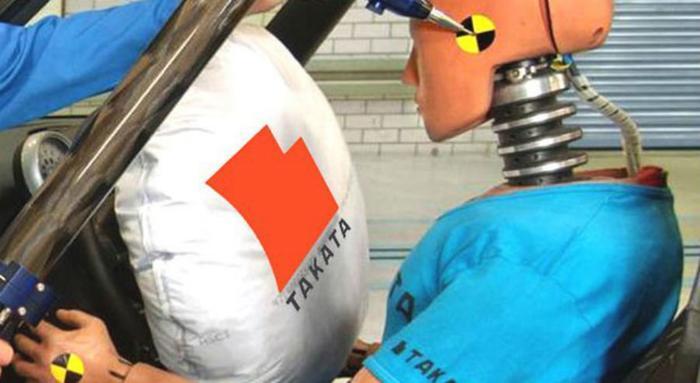 There is a slight, miniscule risk that the airbag in your car could blow up at any moment. We hope you don't mind driving it as is for another two months or longer. That's the message that some owners of cars made with recalled Takata airbags appear to be getting.  
In what is believed to be the largest auto-safety recall in the history of the United States, approximately 34 million cars here (along with another 7 million abroad) were made with defective airbags produced by Japanese manufacturer Takata Corp. The airbags, in rare instances, have exploded and shot shrapnel into the passenger side of vehicles. The explosions have reportedly killed at least 15 people.
Affected car owners who live in what the National Highway Safety Administration classifies as "Zone A," or states and territories with high temperatures and high humidity, are being prioritized for getting replacement airbag parts because regulators believe that hot, humid weather has contributed to the explosions.  
But even living in a priority zone doesn't guarantee quick replacement of your car parts. As a resident of "Zone A," I called a nearby Ford dealership in Dallas, Texas to ask about replacing the parts on my (fictional) 2010 Ford Edge, which is one of four Ford models subject to the recall. The company is currently recalling 1.9 million of its cars.
The dealership in Dallas still does not have the replacement parts for its 2010 Edge. In fact, "for the vast majority of airbags, we do not," said the Ford sales advisor. He estimated that I won't be able to get my Edge fixed until the end of this year, or possibly even early next year. "We're kind of at the mercy of Takata, with the production of air bags that haven't been produced in 4 or 5 years."
Different areas, different service
Some manufacturers have prioritized car-owners in an even more limited amount of states. BMW, for instance, which recalled 840,000 of its cars in February 2016, stated that they will prioritize affected owners in Florida, Hawaii, and Puerto Rico, where weather is especially humid. Sure enough, a BMW dealership in Miami told me that I could get my 3 Series serviced this Saturday in a special "event" where car owners will also get free food and drinks. 
But in Dallas, the nearby BMW dealer said they have only received car parts for older models, not my 2012 3 series. "Dallas, we're just not getting them. We don't have them yet," she said.
Patricia Patterson is an actual owner of the BMW 3 Series. She lives in North Carolina, or part of "Zone B," which is even lower priority for repairs. Patterson says she got a letter from BMW alerting her that her vehicle was subject to a recall. The announcement was not entirely a surprise: she says that the light indicating her airbag needed service had been on, inexplicably, for some time.
The dealership 90 miles away from her home could never help her. "At one point they tried to sell me a new [airbag] for $1300, and I said no, I'll just leave the light on," she tells ConsumerAffairs. Now, when she searches her VIN number on BMW's recall page, she says she gets only one notification: "Remedy not available."
Calling the BMW corporate offices didn't help her. "I told them, if you had [an airbag] you could charge me for, why don't you have one to replace it?" She has opted to stop driving her car while she waits.
"No parts available"
Last July, Chrysler announced a recall of over 4 million of its vehicles in Zones A, B, and C. But a Dallas Chrysler dealership, selling the Dodge, Chrysler, and Jeep, also didn't expect new car parts to arrive from Takata until the beginning of next year. "Unfortunately all dealerships have them on back order," the sales advisor said.
At the local Chevy dealer, requests to fix a 2015 Equinox were also met with "no parts are available at this time."
And an associate at the GMC dealership said that he had been given little information from his corporate bosses about the recall. "It looks like I do not know that information, GMC has not provided us with the proper procedures or materials on how to do it," he said. This is despite the fact that GMC had publicly announced in July that it was recalling 1.9 million vehicles.
"At this time, we do not know," echoed a similarly clueless Land Rover dealership.
Information disparity 
Not all dealerships were left in the dark. A Ferrari's sales advisor in Austin said he already had the parts ready for my 2011 California. A Mitsubishi dealer in Dallas was also optimistic that he could help me, if I provided him my specific VIN and recall number. And the nearby Honda dealership said they had the right parts in for all recalled cars.
Even better, the Honda dealer promised to lend me a rental car free-of-charge while I wait for my car to get fixed. "We'll get you taken care of, we'll actually put you in a rental car," he said confidently.
The Honda dealer's offer was considerably nicer than the more upscale Mercedes dealership in Dallas, where an employee at first wasn't even aware of the recall, even though 841,000 of the company's cars were affected in May. 
An employee later clarified that the parts needed to replace my faulty airbag still aren't in the dealership yet. But when they do come in, there will be no free rental car for me. "From what we know, they don't take that long," she said, meaning that the actual mechanic work of replacing the airbag parts would only take an hour. Getting the correct part to actually arrive, however, is clearly another matter.