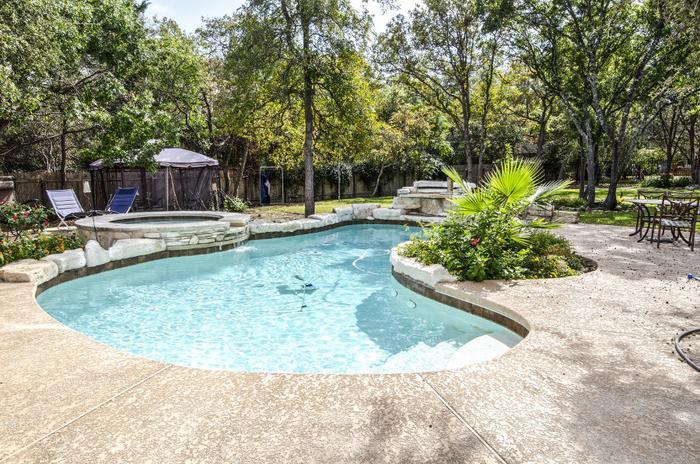 Summertime is outdoor time in much of the U.S. If you're contemplating outdoor home improvement projects that will add to summer entertaining and enjoyment, adding a swimming pool has to be pretty high on the list.
While it isn't guaranteed to add value to your home, it certainly has the potential to make outdoor time more pleasant. Costs for adding a pool in your backyard run a wide range, starting at about $30,000 for a 600-square-foot in-ground concrete pool. Prices for smaller pools, however, can be half that, depending on building materials.
According to Houselogic, a pool is something you add when it's something you desire, not something that you think the next person who owns your home will want. And there are other considerations to think about.
First, what is your climate like? A pool might make more sense if you live in a warm climate like Florida, Texas, or California than if you live in Maine or Michigan. You'll get less use out of an unheated, outdoor pool in colder climates.
Consider the neighborhood
You should also consider the neighborhood. If your home is in an upscale neighborhood where many of your neighbors also have pools, it can make economic sense to build one. On the other hand, having the most expensive home in the neighborhood is not an advantage when it comes time to sell.
You also need to consider how a pool will fit on your lot. If you have an irregularly shaped lot, or a small backyard, putting in a pool might not leave much room for other purposes, such as play or gardening.
A pool can certainly add beauty to your backyard, as well as enjoyment. Most are surrounded by attractive paving materials, adding usable space for lounging or entertaining poolside. These costs also need to be added to pool construction costs estimates.
Fireplace/grill
A nice complement to a backyard pool, or even as a standalone addition, is an outdoor fireplace and/or grill. You have the choice of purchasing a ready-made unit from a home center store or having one designed and built by a contractor.
These fireplaces are generally constructed out of brick or stone, and consist of a wood-burning fireplace and free-standing chimney. You can also add a grill over the firebox for outdoor cooking. HGTV offers these 20 interesting fire pit/fireplace designs.
If outdoor cooking is purely your goal, it is much more cost effective to purchase a high-end barbecue grill and keep it adjacent to your entertaining area. The video below provides some helpful tips on how to choose the right grill for your needs.
Lawn care
If you've gone to the trouble and expense of adding a backyard pool and/or outdoor fire pit, you want to make sure the surrounding lawn is lush, green, and nicely landscaped. According to the experts at Lowe's, you want to start with the right grass -- a grass that will work best in your climate.
There are warm season and cool season grasses, but very often a mixture of the two will work best. Popular cool season grasses include bluegrass and perennial rye grass. Warm season grasses include Bahia and common Bermuda.
A properly fertilized lawn has a better chance of staying healthy. It's also important to mow the grass correctly. Proper mowing will increase a lawn's density, which in turn cuts down on weeds. Each type of grass has a recommended mowing height. Find out which type of grass is in your lawn and mow at the proper height.