---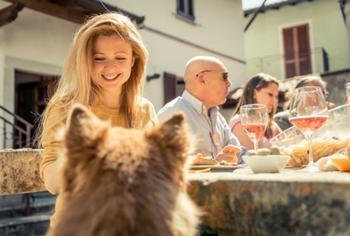 As the grill covers start to come off for summer, many panting pups may begin eagerly awaiting a fallen scrap or two of meat. But not all of our foods -- or backyard barbeque behaviors -- are safe for dogs.
Many popular grilling foods shouldn't be given to four-legged family members. Additionally, there are other hidden risks of a cook-out that pet owners should look out for in the interest of keeping Fido healthy.
Here, we'll take a look at the not so pet-friendly side of a backyard barbeque so that you can keep your dog safe.
BBQ foods can be poisonous
Dogs love meat -- that's a given. But while it may be tempting to indulge his adoration for animal protein by tossing him a few scraps or a bone, it may not be safe.
Ribs and other meats on the bone can do serious internal damage, and grapes, avocado, chocolate, corn on the cob, and fruits containing pits could cause choking. The ASPCA has also declared onions, garlics, leeks, chives, and other related foods unsafe for dogs, as they are known to cause red blood cell damage and gastrointestinal upset.
Hot dogs, on the other hand, can be a great treat for dogs when cut up into bite-sized pieces and given in moderation. 
Watch out for chemicals
Mosquito-repelling candles and bug spray may be your go-to for keeping mosquitos away from guests, but the chemicals included in these products may be harmful to pets.
Citronella candles should be placed in areas high enough that the dog can't reach, even if he jumps. Gasoline for barbeques and insecticides (including bug sprays with DEET) should be stored in closed cabinets, out of paw's reach.
Apply sunscreen
It's a myth that dogs don't need sunscreen, according to the pet experts at DogVacay. On hot summer days, dogs should be protected not only from overheating and dehydration but also from sunburn.
White dogs, hairless dogs, and dogs with light colored fur are most susceptible to sunburn. To keep your dog's sensitive skin protected, apply sunscreen to the areas most likely to get sunburned, including the nose, underbelly, tips of the ears, around the mouth, and eyelids.
Keep a watchful eye 
Roaming around the backyard during a family cookout may just be your dog's idea of the perfect day -- but all that roaming could get him into trouble.
Keep an eye on your pup to help ensure he stays out of the trash, away from the grill, and safely inside the gated area. If your dog is less social (or more prone to getting into trouble), indoors might be the safest, most relaxing place to be during a cook-out. 
---