---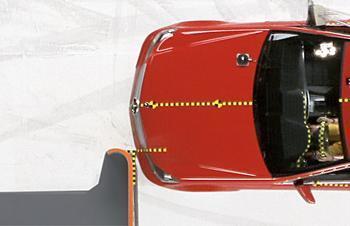 A new safety test may be in the works at the Insurance Institute for Highway Safety (IIHS) -- one that would rate passenger-side protection as part of the small overlap crash test.
While drivers can expect to be protected well in a front crash involving the left corner of the vehicle, a new study shows that good protection doesn't always extend across the front seat to the passengers sitting next to them.
The Institute conducted 40 mph passenger-side small overlap tests on seven small SUVs with good driver-side small overlap ratings. Only one -- the 2016 Hyundai Tucson -- performed at a level corresponding to a good rating; the others ran the gamut from poor to acceptable.
"This is an important aspect of occupant protection that needs more attention," said Becky Mueller, an IIHS senior research engineer and the lead author of the study. "More than 1,600 right-front passengers died in frontal crashes in 2014."
Thus, the IIHS is considering a passenger-side rating as part of its TOP SAFETY PICK criteria.
Driver-side only
IIHS currently conducts its tests for front ratings with a driver dummy and with the barrier overlapping the driver side. The reason is simple: every vehicle on the road has a driver, but there isn't always a passenger riding along.
"It's not surprising that automakers would focus their initial efforts to improve small overlap protection on the side of the vehicle that we conduct the tests on," said David Zuby, IIHS executive vice president and chief research officer. "In fact, we encouraged them to do that in the short term if it meant they could quickly make driver-side improvements to more vehicles. As time goes by, though, we would hope they ensure similar levels of protection on both sides."
Protection differences
The recent passenger-side tests show how big the differences can be. In the group of small SUVs that was tested, most didn't perform as well when they were crashed into a barrier on the right side instead of the left. That was even true of models that appeared symmetrical after removing bumper covers and other external components.
"When structural improvements are visible only on the driver side, there are large differences in performance," Mueller says. "But the inverse is not true. Some vehicle structures look the same on both sides, but they don't perform the same. That's why we can't rely on visual analysis but need to monitor this issue and possibly begin rating vehicles for passenger-side protection."
The IIHS passenger-side small overlap testing program could start next year and make it a requirement for one of its safety awards as early as 2018.
---