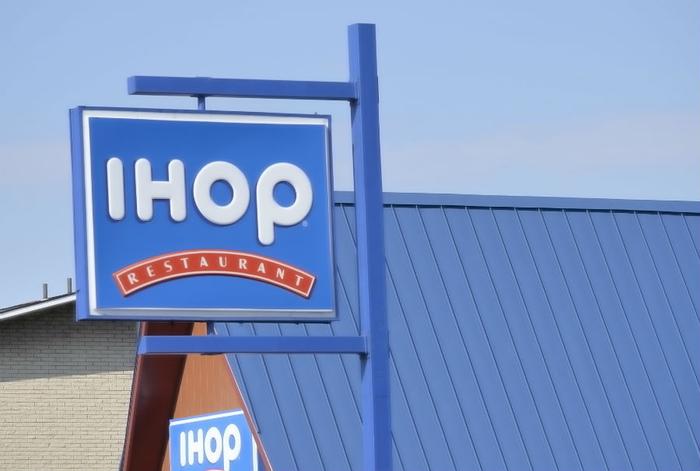 Last month, the International House of Pancakes (IHOP) made news when it announced a name change to promote its new burger menu -- IHOb.
After less than a month as IHOb, the popular pancake joint announced that it will be going back to its roots to once again be known to the masses as IHOP.
In addition to reclaiming its pancake roots, IHOP will also be offering customers a discount on its signature meal in honor of the company's 60th birthday.
"We're giving away 60¢ short stacks on July 17th from 7am-7pm for IHOP's 60th birthday," the company wrote on Facebook. "That's right, IHOP! We'd never turn our back on pancakes (except for that time we faked it to promote our new burgers)."
The initial change
IHOP first announced the change early last month, informing customers that the infamous P would soon be flipping to a B. The company left customers without answers for about a week before revealing the emphasis on the restaurant's new burger menu.
"Burgers are a quintessential, American menu item so it makes perfect sense that IHOP, one of the most iconic, all-American comfort-food brands in the world, would go over the top to create a delicious line-up of quality burgers that hit the spot any time of day," said Nevielle Panthaky, Head of Culinary at IHOP.
According to IHOP President Darren Rebelez, the chain famous for its pancakes spent over a year trying to enhance its burger menu as it worked to boost sales outside of breakfast.
"We had to make a bold move to get people to be willing to talk about us for something other than breakfast soon," Rebelez said.
Response to IHOb  
All but instantly, the change from IHOP to IHOb lit up social media. Both customers of the restaurant and other food chains took to Twitter to question IHOP's decision to change its name.
Wendy's certainly wasn't intimidated by IHOP's decision to focus on burgers, tweeting, "Not really afraid of the burgers from a place that decided pancakes were too hard." Then, when IHOP announced the change as a marketing decision, a customer asked Wendy's to weigh in, touting IHOb as a joke. Wendy's response? "Of course it was."
Despite some backlash, IHOP's name change certainly sparked a conversation among consumers.
According to YouGov BrandIndex data, IHOP's "word of mouth" score skyrocketed following the switch to IHOb. Before the switch, 19 percent of adults said they had talked about the restaurant chain in the past two weeks. After, that number jumped to 30 percent -- the highest score since 2012.
Rebelez wants customers to remember that the name change was never meant to be permanent, and the company wasn't trying to eliminate its signature dish.
"The pancakes haven't gone anywhere… They're still there," he said. "They're on the cover of the menu. Just because we have pancakes doesn't mean we can't do anything but pancakes. That's what we're after: giving more people more reasons to come to IHOP more often."