---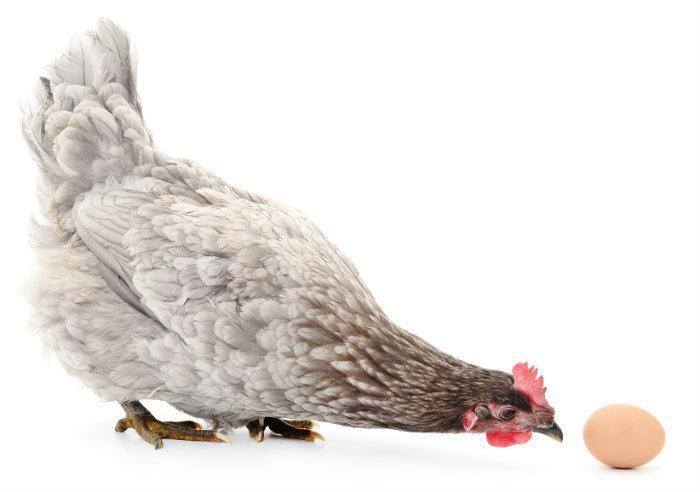 Everyone has been flocking to organic eggs lately, expecting them to be healthier, tastier, and just generally superior to "industrial" eggs. But a report by Cornucopia, a farm policy research group, says many of the eggs don't deserve the label. It blames the government for lax enforcement.
"It's obvious that a high percentage of the organic eggs on the market are illegal and should, at best, be labeled 'produced with organic feed,' rather than bearing the USDA-certified organic logo," Corucopia's Mark Kastel said, pointing to a lengthy report that focuses on widespread abuses in organic egg production and marketing.
An organization of egg ranchers says Cornucopia is getting its feathers ruffled over unrealistic standards.
"With a nation of more than 300 million people and a world population of approximately 6 billion and expected to grow to 9 billion by 2050, we know that egg farmers play an important role in producing an abundance of affordable, safe food," says United Egg Producers, motto: "By egg farmers, for egg farmers."
"UEP and our farm members believe in consumer choice and therefore produce eggs in modern cage, cage-free and organic production systems as well as producing other specialty shell egg products," say the eggmen, highlighting the intramural egg industry debate over whether organic eggs come only from cage-free hens. 
The Cornucopia study profiles exemplary management practices employed by many family-scale organic farmers while spotlighting abuses at so-called "factory farms," some confining hundreds of thousands of chickens in industrial facilities and representing these eggs to consumers as "organic."
To win the U.S. Agriculture Department's "organic" seal, eggs are supposed to come from chickens that wander around on their own, pecking at grass, seeds, insects and getting plenty of fresh air and exercise. But the Cornucopia report says many supposedly organic eggs come from chickens that are cooped up all day. Even if they're eating organic feed, the resulting eggs won't be truly organic, the group says.
Eggs eyed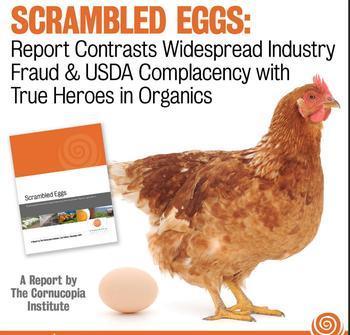 Perhaps taking their lead from the NSA and other super-spy government agencies, Cornucopia spent six years conducting surveillance of egg ranchers and didn't count as many chickens in the barnyard as the number of "organic" eggs on supermarket shelves would indicate. 
"For this report, we have visited or surveilled, via aerial photography/satellite imagery, a large percentage of certified egg production in the United States, and surveyed all name-brand and private-label industry marketers," Kastel said.
Kastel puts the blame on the feds. He accuses the USDA's National Organic Program of gross malfeasance in neglecting to protect consumers from fraud and ethical farmers from unfair competition, as Congress charged the agency to do.
Chickens confined
Still, it takes a lot of eggs to feed a hungry nation and Cornucopia's report focuses not on the size of some of the mammoth agribusinesses but rather on their organic livestock management practices. It says that most of these giant henhouses, some holding approximately 200,000 birds, provide no legitimate access to the outdoors, as required in the federal organic regulations.
"Many of these industrial-scale operators are gaming the system by providing tiny enclosed porches, with roofs and concrete or wood flooring, and calling these structures 'the outdoors,'" said Paul Nehring, a livestock producer quoted in the report. "Many of the porches represent just 3% to 5% of the square footage of the main building housing the birds. That means 95% or more of the birds have absolutely no access whatsoever to the outdoors." 
Whether any of this really has a measurable impact on an egg's nutritional value isn't the issue, organic farmers say. They, and many consumers, say they want to protect farm animals from abuse and substandard living conditions.  
"If one animal has the legal right to be outdoors, then all animals have the same right, whether they choose to take turns or if they all choose to be outside at the same time," said Jim Riddle, a Minnesota organic farmer and former chairman of the USDA's National Organic Standards Board (NOSB), quoted in the report.
The full Cornucopia report is available online. 
---