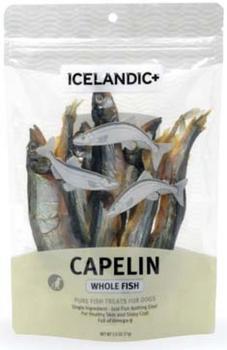 IcelandicPlus of Ft. Washington, Pa., is recalling its Capelin Pet Treats.
Some of the fish have exceeded the FDA compliance guideline for fish larger than five inches. The agency has determined that salt-cured, dried, or fermented un-eviscerated fish larger than five inches have been linked to outbreaks of botulism poisoning in humans.
There are no reports of illnesses of dogs, cats or people in connection with Capelin.
The recalled product is packaged in a 2.5 ounce tube or a 1.5 or 2.5 ounce bag marked "Icelandic+ Capelin WHOLE FISH, PURE FISH TREATS FOR DOGS," or "PURE FISH TREATS FOR CATS," UPC CODES, 8 5485400775 9; 8 5485400711 7; and 8 5485400757 5. (lot numbers 02/2020 to 02/2022), and sold to consumers nationwide through independent pet specialty stores.
What to do
Customers who purchased the recalled product should return it to the place of purchase for a refund.
Consumers with questions may contact the company at (857) 246-9559. Monday – Friday, 8am – 5pm (EST).