---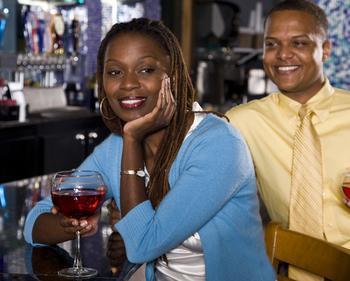 Want to impress someone with whom you share a romantic interest? Add this to your collection of ice breakers and pick-up lines: "I have a 755 credit score."
According to a recent survey by a division of Experian, both men and women find financial responsibility a highly desirable trait. In fact, the survey shows that among women, 96 percent say financial responsibility is important, compared to 87 percent noting physical attractiveness as an important quality.
Men, on the other hand, still prefer physical attractiveness as the primary trait but financial responsibility is a close second, with 91 percent saying it's important. Overall, only "personal compatibility" trumps financial responsibility in the selection of a potential mate.
Bigger issue for women
It may comes as a surprise to some men but women rank financial compatibility and sexual intimacy as equally important. According to the survey, women view "is financially responsible" and "pays bills on time" as the top two financial attributes when deciding if a potential mate is attractive. Together, men and women both view "spends beyond means" and "has debt" as potential deal-breakers.
In a marriage, both parties bring their individual credit scores to the relationship. Throughout the marriage they will continue to have an individual credit score, based on financial transactions conducted only in their name. But they will also have a joint credit score, and if one partner drags it down, mortgages and auto loans will be more expensive, if you can even qualify for them at all.
Relationships go south
Relationships often crumble because one partner is not as financially responsible as the other. Chris, of Lewisville, Idaho, experienced the downside of a financially incompatible mate when she went shopping for car insurance quotes at Geico.
"Their representative tells me thank you for my interest on my quote she would be happy to help me, Chris writes in a ConsumerAffairs post. "But she then proceeds to tell me I owe them money on a delinquent account. I am floored because I have never used Geico. She then goes on about that the account is from 2007 and belonged to my now ex-husband. We were married in 2010 and then divorced, shortly after. I have my own insurance carrier and was never on my husbands car insurance."
Melissa, of Tracy, Calif., signed for a truck loan at Ally Bank with her husband. Then they got a divorce.
"Ally managed to keep my name on the documents without me signing and still reports to the credit agency that I have a loan, Melissa writes.."Three years later I am still trying to get my ex-husbands truck off my credit."
Suze Orman's advice
Personal finance guru Suze Orman advises couples to get to know one another's financial orientation very early in the relationship. She calls it "financial intimacy."
"Financial intimacy is not about contributing the same amount to the joint checking account," Orman writes on her website. "I am talking about building an understanding and respect for your individual financial personalities and learning how to meld any differences so you are financially in sync."
To help couple determine whether they are in sync financially, Orman has devised this quiz.
The FreeCreditscore.com survey suggests singles who want to become couples are giving financial matters higher priority than they once did. Nearly half of the respondents in the survey say they discuss their credit score with a romantic prospect or partner, and 39 percent discuss it within the first year of a relationship. Consumers who want to fix credit score issues may benefit from our credit repair companies guide.
---