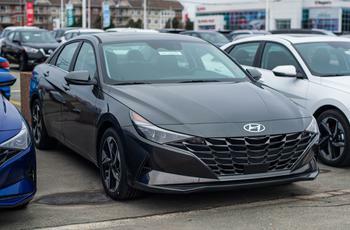 Hyundai has issued a recall for 239,000 2019-2022 Hyundai Accent, 2021-2023 Hyundai Elantra, and the 2021-2022 Hyundai Elantra hybrid electric vehicles. 
The recall is in response to reports that at least three people have been injured when part of the seatbelt exploded. Two of the reported injuries occurred in the U.S. The third occurred in Singapore.
The U.S. National Highway Traffic Safety Administration (NHTSA) posted the recall notice, saying that about 1% of the recalled vehicles could have a defect with a "pyrotechnic" component of their seatbelt pretensioners.
Pyrotechnically triggered seatbelt tensioners, which are common in late-model vehicles, tighten seatbelts around passengers a split second before a collision.
What to do
All owners of affected vehicles will be notified by first class mail with instructions to bring their vehicles to a Hyundai dealer to have the seat belt pretensioner's micro gas generator and delivery pipe secured with a cap to prevent potential abnormal deployment. 
This remedy will be offered at no cost to owners of all affected vehicles, regardless of whether they are still covered under Hyundai's New Vehicle Limited Warranty. 
Hyundai will also provide owners of affected vehicles reimbursement for out-of-pocket expenses incurred to obtain a remedy for the recall condition in accordance with the reimbursement plan submitted to NHTSA on February 24, 2022.
To check to see whether your vehicle is part of the recall, go to the NHTSA database and enter the vehicle's VIN.