---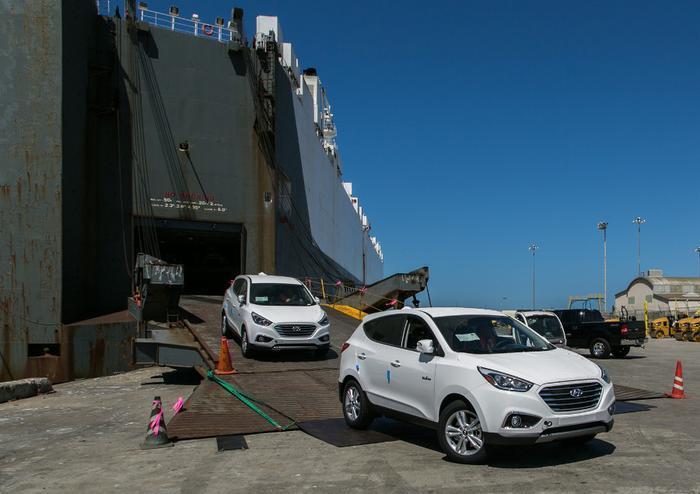 Hyundai-Kia has unseated Honda the become the "greenest automaker," according to the Union of Concerned Scientists' (UCS) latest Automaker Rankings report.

Using the adjusted, most up-to-date information on Hyundai-Kia's vehicles after the automaker had to revise its performance data with the U.S. EPA, the findings show that the automaker came out in first place thanks to a concerted effort to improve the green performance of its fleet by turbocharging and downsizing engines in a number of its models while also introducing hybrid-electric versions of two of its top-selling vehicles, the Hyundai Sonata and Kia Optima.
This report marks the first time another company has bested Honda, which came in second this year but has earned every "Greenest Automaker" previous accolade from UCS since 1998.

"Honda continues to lead the way in many vehicle classes, but it's started to lag the industry average in its midsize fleet—which includes its best-selling Accord, and accounts for a quarter of the company's sales," said Dave Cooke, a vehicles analyst in the Clean Vehicles Program and the author of the report. "As Hyundai-Kia works to further improve fuel economy and electrify its fleet, Honda will need to step up its game if it wants to take back the crown."
Tied for third
It was a three-way tie for third place, with Toyota, Nissan, and Volkswagen too close to call. While all the international automakers in the ranking scored better than the national average, the Detroit Three – Ford, General Motors, and Chrysler – continue to bring up the rear, as they have in every automaker ranking. However, some domestic automakers are making greater strides than others

Ford led the Detroit automakers while achieving the greatest percent reduction in smog-forming emissions of any manufacturer evaluated. The company also enjoyed strong improvements in global warming emissions due to its increased use of hybrids and its focus on smaller, turbocharged engines in vehicles ranging from the Ford Focus sedan to its iconic, best-selling large pick-up, the F-150, demonstrating that fuel-economy gains are possible across an automaker's entire fleet.
All eight bestselling automakers are improving their environmental performance thanks to new technologies and stronger standards for fuel efficiency and tailpipe emissions, the group said. It's the first time that's happened since the group began issuing its annual report in 1998.
The report, the sixth evaluation of its kind by UCS, examined the emissions of both global warming and smog-forming pollution from 2013 model year vehicles of the automakers.
Not just cupholders
"For too many years, clean car standards were stagnant and automakers were more likely to promote extra cup holders instead of fuel economy," Cooke said. "Now, consumers are demanding cars that go further on a gallon of gas and new standards are pushing the automakers to deliver. The big lesson here is that the smog and global warming standards are working and there is much more to be gained as these standards progress."

Stronger tailpipe emissions standards have led to an 87 percent reduction in smog-forming tailpipe emissions from the average car or truck since 2000, while global warming emissions from the average vehicle have decreased by nearly 20 percent since 1998.
Technology will be crucial to achieving continued reductions in both global warming and smog-forming emissions from the U.S. fleet, the report projects, as more stringent emissions standards continue to take effect. Diverse strategies to improve fuel economy and global warming emissions—from improvements in conventional engines to plug-in-electric and hybrid-electric vehicles—all present opportunities for automakers to continue and accelerate the trend of reducing emissions across all types of vehicles.

"Automakers have a lot of clean technology ready to roll, and they are only just beginning to deploy it," said Don Anair, research director of the UCS Clean Vehicles program. "Continued investments by automakers coupled with strong performance standards will ensure new models further reduce fuel consumption and tailpipe emissions while offering the cleanest, most fuel-efficient vehicle choices for their customers."
---