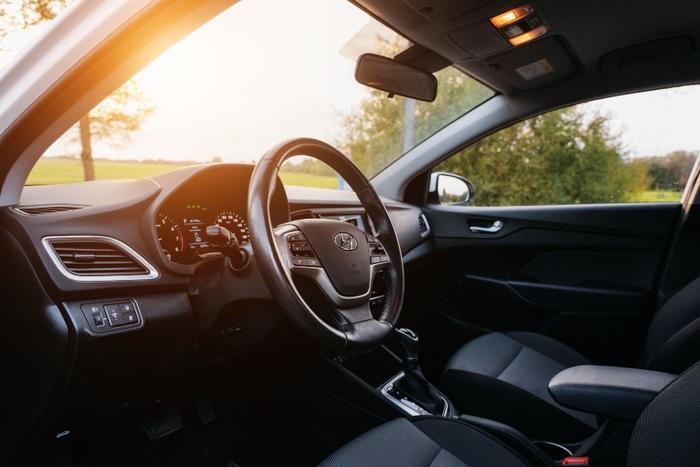 Hyundai said it will install rear seat reminder systems as standard equipment on most new models by 2022, a move aimed at preventing children from being accidentally left in a parked car.
The system is called a Rear Occupant Alert (ROA) door-logic system, and it will remind the driver that a child is in the back seat. Two 2020 models, the Santa Fe and Palisade, already have the system in place. Both SUVs have the Ultrasonic ROA, an enhanced version of the alert system, available as an option. 
Before the end of this year, the 2020 Sonata will also feature standard door-logic ROA. The 2019 Santa Fe has the Ultrasonic ROA feature available as an option. 
"Heatstroke in vehicles is preventable and we are doing our part to prevent this," said Mike O'Brien, vice president, Product, Corporate and Digital Planning, Hyundai Motor America. "We have great systems that use both door logic memory and motion sensors to help prevent children and pets from being forgotten in the car, but it also helps in case children accidentally lock themselves in."
Congress may act
Congress is moving toward making these systems mandatory. U.S. Rep. Timothy Ryan (D-Ohio) introduced legislation in May to require deployment of the safety feature in cars sold in the U.S., saying it would help reduce preventable hot car deaths.
"Our cars can already alert drivers when they leave their keys in the car, their lights on or their trunk open -- none of which are life threatening. It is not unusual for the government to mandate safety features to protect lives," Ryan said when he offered the bill.
Preventable deaths
There have been 906 heat stroke-related deaths among children in cars in the U.S. since 1989, according to the website KidsAndCars.org, a nonprofit organization dedicated to preventing deaths of young children and pets in and around vehicles. Almost 50 of those deaths occurred last year.
"In the vast majority of those cases, the adult did not realize the child was inside the car. It's not enough to educate parents about the risks. Even the most attentive parent can get distracted, so we need safety features built into our vehicles," said Rep. Janice Schakowsky (D-IL), one of the bill's co-sponsors.
Hyundai's ROA door-logic system detects if a rear door was opened or closed before the car was started, then gives the driver a reminder to check the rear seat, using the in-dash video panel as the driver exits the vehicle. 
The Ultrasonic ROA uses an ultrasonic sensor that helps to detect the movements of children and pets in the back seat. The video below, supplied by Hyundai, explains how the systems work.