---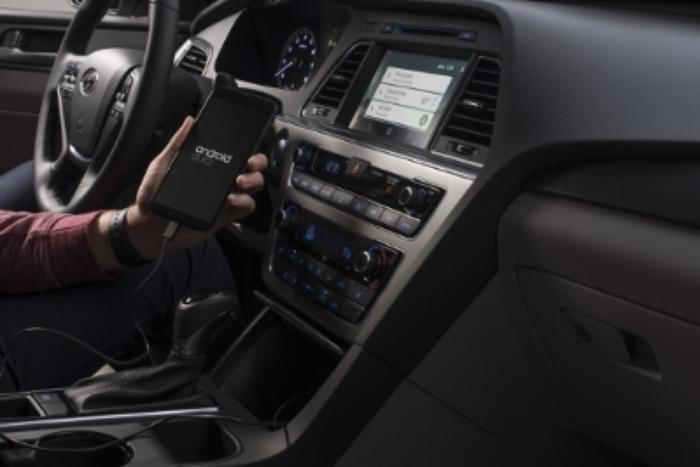 Technology increasingly pulls consumers into new car showrooms. New cars have a lot more technology in the dash than even three-year-old models.
Hyundai is trying to raise the bar, not with hardware but with software. It has introduced Android Auto, a system that integrates some Android phones with the navigation system in the 2015 Hyundai Sonota.
"Android Auto aligns with Hyundai's core interior design principles of safety, intuitiveness and simplicity," said Dave Zuchowski, president and CEO, Hyundai Motor America. "We launched this highly anticipated feature on our best-selling Sonata, adding to our promise of value. With the launch of Android Auto, we provide more owners with the experience of cutting-edge technology."
What about safety?                         
Having more and more gadgets at your disposal behind the wheel doesn't sound like such a good idea but Zuchowski says the new system will actually promote safety. He points out that just about any time of day there are thousands of people driving while trying to manipulate some type of electronic gadget.
Hyundai says the new interface will help keep drivers' eyes and attention on the road by integrating the advanced driving-related functions of the user's smartphone with the familiar centralized screen, physical controls and microphone of their car.
As an added safety feature, the company says the synced smartphone's screen becomes "locked," so drivers are not tempted to look down and interact with their phones directly while Android Auto is in use.
Free download at dealers
If you are driving a 2015 Sonata with the navigation package you can get the free software download at any Hyundai dealer. Within a few weeks the company says you'll be able to download the software yourself if you have a MyHyudai account.
To use the new software your phone needs to run Android 5.0 Lollipop or later and the Android Auto companion app on a compatible phone. A micro USB cable is required to connect the phone to the car's USB port.
The first time you plug a phone into a parked Sonata, the phone will prompt the download of the Android Auto companion app from the Google Play. From there you download familiar Android phone applications, such as Google Maps, Google Now, messaging, phone calling and Google Play Music.
Voice controls
Hyundai stresses that these apps controlled by voice, as well as steering wheel controls and touchscreen. Android Auto can also launch many popular third-party audio apps that owners have on their phones, including iHeartRadio, Spotify, TuneIn, NPR, Stitcher, Skype and TextMe.
How would you use this software package? Hyundai says Google Now provides suggested locations and travel times based on the user's searches, calendar entries and home and office locations, as well as weather information and "now playing" information for music streamed over the phone.
The software is automatically updated because the apps live on the phone. Hyundai says users can easily bring their personal reminders, suggested destinations, calendar appointments and music preferences with them when they get in their car.
---