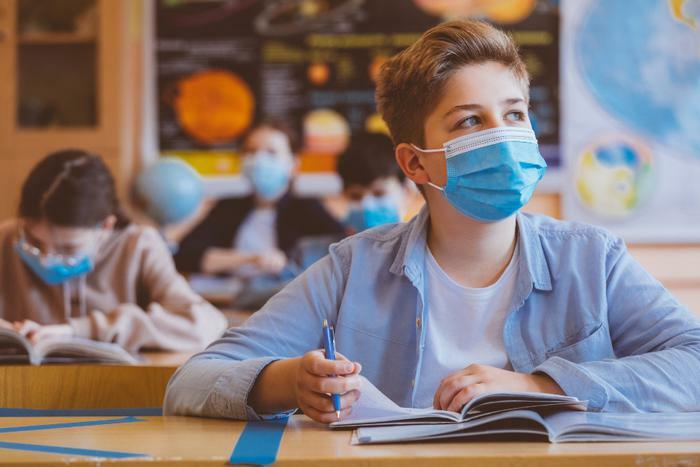 A new study conducted by researchers from the Georgia Institute of Technology explored how hybrid learning initiatives affected the spread of COVID-19. According to their findings, following a hybrid learning model by alternating which days kids are in a school building can be effective at slowing the spread of COVID-19. 
"Early in the pandemic when school closures were becoming the norm, many debated the pros and cons of this measure," said researcher Pinar Kestinocak.
"Do we get enough benefit to offset the social costs and impacts on education? This research shows that there is a benefit in infection reduction, especially in the absence of effective pharmaceutical interventions, and most of the benefits can be attained with a hybrid approach." 
How schools affect community spread of COVID-19
For the study, the researchers used a simulation model to project how several different school opening methods impacted the number of COVID-19 infections, hospitalizations, and deaths across Georgia from February 2020, through November 2020. The team looked at: 
Fully remote learning for all students

Hybrid learning – half of the students go into school Monday and Wednesday, and the other half go into school Tuesday and Thursday

Only kids up to the age of 9 receive in-person learning

All students return to in-person learning 
The researchers learned that keeping schools closed and making schooling entirely online was associated with the greatest reductions in COVID-19 cases; with this method, the infection rate was 13% lower. However, in thinking about how to ensure kids receive in-person learning in some way, the study also showed that the other hybrid options had similar results. 
The hybrid learning model, where kids alternate two days in school and three days online, was associated with an 11% lower rate of COVID-19 infections. Similarly, keeping just children under the age of 10 in school was linked with a 9% lower rate of infection.
Though this study didn't look at how these school opening efforts impact families or students' learning outcomes, it was clear that limiting the amount of time that children were in school helped keep community COVID-19 spread low. 
"The additional benefit of complete school closure compared to hybrid was relatively small," said Kestinocak. "The implementation of an alternating day model can be challenging but could have public health benefits early in the pandemic or during a new wave, providing social and learning benefits as well."