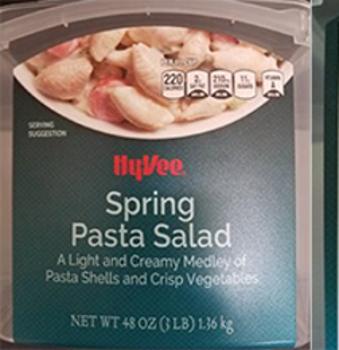 Hy-Vee of West Des Moines, Iowa, is recalling its Hy-Vee Spring Pasta Salad.
The product may be contaminated with Salmonella.
Approximately 20 illnesses in Minnesota, South Dakota, Nebraska and Iowa are potentially linked to customers consuming the salad.
The recall product includes Hy-Vee Spring Pasta Salads in both 1-pound (16-oz.) and 3-pound (48-oz.) containers produced between June 1, 2018, and July 13, 2018, and available from the deli service case.
The pasta salad, which comes in a plastic container with a plastic lid and an expiration date range between June 22, 2018, and Aug. 3, 2018, on the side of the container, was distributed to all Hy-Vee's 244 grocery stores in Iowa, Illinois, Missouri, Kansas, Nebraska, South Dakota, Minnesota and Wisconsin.
What to do
Customers who purchased the recalled product should dispose of it or return it to their local Hy-Vee store for a full refund.
Consumers with questions may contact Hy-Vee customer care at (800) 772-4098 24 hours a day, seven days a week.