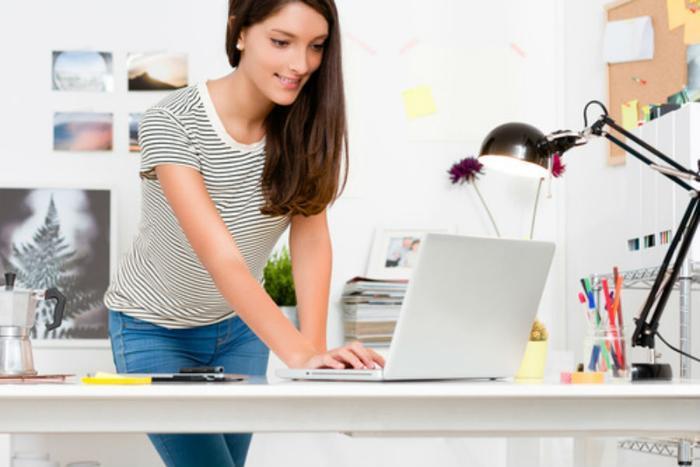 In the last couple of years studies have suggested Americans spend too much time sitting, and it's taking a toll on health.
But many of us spend our days in front on computers, doing one task or another. True, but it doesn't necessarily mean we have to sit. As we have previously reported, having employees work at desks where they stand up are being considered for their health benefits. 
Now, researchers at the Texas A&M; Health Science Center School of Public Health suggest working while standing may help us do better work.
They tested their theory on a group of students, who were given the choice of standing or sitting while working. Ranjana Mehta, Ph.D., assistant professor at Texas A&M;, used four computerized tests to assess executive functions, the cognitive skills we all use to analyze tasks, break them into steps and keep them in mind until we get them done.
Good executive functions usually translate into better academic performance, since students manage their time effectively, memorize facts, understand what they read, solve multi-step problems, and organize their thoughts in writing.
Significant improvement in executive function
"Test results indicated that continued use of standing desks was associated with significant improvements in executive function and working memory capabilities," Mehta said in a release. "Changes in corresponding brain activation patterns were also observed."
In 2014, health care provider Kaiser Permanente released a study showing that prolonged sedentary behavior in men significantly increases the risk of heart attack. The study followed more than 82,000 men aged 45 years and older who were part of the California Men's Health Study and who were enrolled in Kaiser Permanente health plans in the state.
The researcher found a link between spending several hours a day in sedentary inactivity and the increased risk of developing heart failure as compared with men who reported high physical activity and low sedentary time.
Health benefit
Some companies have offered employees the option of a stand-up desk as a health benefit. The new Texas A&M; study may provide further incentive if companies think they'll get more productive employees.
Meanwhile, check out our previous report on the different types of stand-up desks, some even equipped with treadmills.