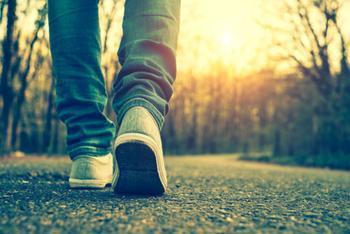 Finding time to exercise can be difficult for many people, but many studies have shown that simply walking for an extended period can impart great health benefits on the average person. Now, a new study shows that it might be even more helpful for people with cancer.
A new study from the University of Surrey shows that walking for as little as 30 minutes per day can improve quality of life for advanced cancer patients. The researchers, working with colleagues from the Florence Nightingale Faculty of Nursing & Midwifery at King's College London, found that walking can reduce the severity of cancer symptoms.
"This study is a first step towards exploring how walking can help people living with advanced cancer. Walking is a free and accessible form of physical activity, and patients reported that it made a read difference to their quality of life," said lead researcher Dr. Jo Armes.
Valuing exercise
An abundance of previous research has shown that physical activity can be beneficial to cancer patients. However, patients commonly reduce their physical activity during treatment, and activity levels tend to stay low after that.
To gauge the importance of continued physical activity, the researchers split 42 patients into two groups and advised them to either (1) increase their physical activity to include at least 30 minutes of walking per day, or (2) maintain their current physical activity levels.
After completing the program, participants reported back to the researchers and had their physical health assessed. Those who increased their exercise regimen were found to be physically, emotionally, and psychologically better off than those who only maintained their physical activity levels.
"The importance of exercise in preventing cancer recurrence and managing other chronic illnesses is becoming clear. . . Findings from this important study show that exercise is valued by, suitable for, and beneficial to people with advanced cancer," said co-author Emma Ream. "Rather than shying away from exercise, people with advanced disease should be encouraged to be more active and incorporate exercise into their daily lives where possible."
Improved quality of life
Although the researchers highly praised the effects of exercise in improving health, some of the most poignant testimonials come from the participants themselves. One person commented on how much their daily walks improved their quality of life.
"The impact has been immense! It gave me the motivation to not only increase walking activity from minutes to 3-4 hours per week but also to reduce weight by altering diet, reducing sweets/sugars. Great boost to morale. No longer dwell on being terminal – I'm just . . .  getting on with making life as enjoyable as possible, greatly helped by friends made on regular 'walks for life."
The full study has been published in BMJ Open.