---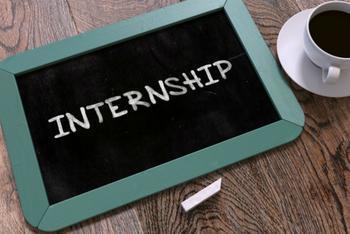 There's no question that having an internship gives a student a leg up when it comes to landing a job. A recent survey by the National Association of Colleges and Employers (NACE) proves it.
In 2011, students who performed an internship were 12.6% more likely to land a job before graduation than those who didn't. By last year, the internship gap had grown to 20%.
But just being an intern won't guarantee a real job, placement experts say. Interns who use the opportunity to separate themselves from the pack will stand the best chance.
"Soon-to-be seniors are hoping to land the job offer before crossing the stage in May and performing well in an internship that matches your skills and interests can help make that happen," said Patrick Sullivan, an internship specialist at Wake Forest University.
Make a memorable exit
Sullivan says it is important to perform well during the internship. It's even more important, he stresses, to make a memorable exit.
Sullivan has three main pieces of advice. They start with being proactive.
He suggests seeking out your supervisor before your internship ends. Tell him or her what you have learned, go over what you think has been a success, and most importantly, ask how you can improve your skills.
Communication is also very important. Research shows when employers add staff, they look for people with initiative, flexibility, and good people skills. Find ways to demonstrate that you have those traits.
One way is to be open and direct with your supervisor at all times. And when the internship is wrapping up, tell him or her you would like to join the organization. Don't assume that it is understood. Even if it was assumed, a supervisor likes to hear it said out loud.
Stay connected
It's also important to keep up with the organization and in touch with mentors. Use LinkedIn to keep your professional experience up to date and follow everything the organization is doing. Sullivan suggests job seekers create and save a Google News search to follow industry trends. This shows recruiters you are serious about wanting to be part of the organization.
Sullivan says it never hurts to end an internship with a handwritten note, thanking a manager and other colleagues who were helpful. In this digital, impersonal age, a handwritten note makes an impression.
It's also a classy move, and Sullivan predicts that when it comes time to fill a full-time position, your note will be remembered.
---