---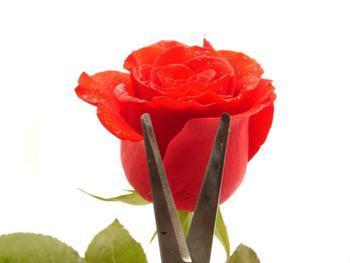 For many gardeners, one of the joys of growing flowers is having the ability to cut a few blooms to fill a vase. Spring flowers can be an especially welcomed sight after a cold, flowerless winter. And while they're just as beautiful sitting untouched outside, there's a certain simple delight in having a vase full of your own colorful blooms to admire in the house.
Studies show that people are healthier when surrounded by flowers and plants. They're natural stress-reducers, one study finds. The presence of fresh flowers in the house can cause people's perceived level of happiness to increase, in addition to making them feel more secure, relaxed, and optimistic.
If you're among those who enjoy snipping a few stems to have inside, it's likely that you're interested in keeping them fresh for as long as possible. So what can you do to help extend the life of your cut flowers?
Timing is important
Choosing the right time of day to break out the floral knife or shears is an important first step in prolonging the life of your arrangement. The early morning is an optimal time to cut flowers, as stems will be well hydrated and full of stored sugar; they'll also be especially fragrant. If you can't make it outside in the morning, the second best time the cut them is in the late afternoon or at sunset.
A flower's maturity also affects its keeping qualities, says Marion Owen, PlanTea, Inc, and co-author of Chicken Soup for the Gardener's Soul. Certain types of flowers will thrive best indoors if cut when fully open, and some will adjust better if cut while still closed up.
Flowers that should be cut in the bud stage (or when just starting to open) include poppies, tulips, roses, daffodils, irises, and gladiolas. Flowers that should be cut when open are those that grow on individual stems: sunflowers, marigolds, chysanthemums, dahlias, dianthus, and delphiniums, etc. 
As you're cutting, place freshly cut stems in a bucket of water to help them stay fresh. Plastic buckets can often be a better choice as metal buckets can affect the pH balance of water.
Fresh water
After cutting flowers from the garden, bring them indoors and use a sharp knife to cut the stems again -- this time at a 45-degree angle. Then, remove lower leaves and put them in tepid, lukewarm water. For bulbs, however, you'll want to use cold water.
Some recommend cutting stems under water before putting them in a vase, either under running tap water or in a basin full of warm water. According to the experts at MasterGardeners.org, this will keep air from getting into the stems.
A lack of proper hydration is one of the main reasons flowers wilt early, so it's important to trim stems and change the water every few days. Most flowers would also appreciate a daily mist.
Vase solutions
As plants are living things, they need to eat. Some of the tricks people use to keep flowers fresh include adding crushed aspirin, a penny, clorox, or vodka to the arrangement's water. But while all of these folk remedies have been tried, none of them have been proven to be 100% true. 
What has been shown to help cut flower arrangements last longer, however, are vase solutions that involve a mix of acid (to improve water flow in stems) and sugar (to help buds open and last longer).
Try these recipes to extend the life of your bouquet:
One teaspoon sugar, one teaspoon household bleach, two teaspoons lemon or lime juice, and one quart of lukewarm water. 

One part (non-diet) lemon-lime soda with three parts water. To keep the solution clear, add ¼ teaspoon of bleach for every quart.

Two tablespoons of lemon juice, one tablespoon of sugar, and ¼ teaspoon of bleach in quart of warm water. Add another ¼ teaspoon of bleach every four days.
---