---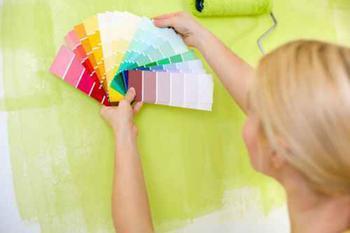 As prime painting season (Memorial Day to Labor Day) draws near, many homeowners may be thinking of changing up the color of their walls.
Indeed, tackling those indoor painting projects during the spring and summer months can be a smart move. Homeowners can open the windows to let in the fresh air, which allows for better circulation, better air quality, and faster drying times.
But while the timing may be right, other aspects of painting may not make it as easy to determine what is "right." For many homeowners, choosing the right paint color can be one of the hardest parts of painting.
So what should you consider before lugging home several gallons worth of a new wall color?
Lighting
Lighting interacts with color in ways that can lead to a surprising end result. To help ensure the color of your walls matches that of the paint swatch you first swooned over, consider what type of lighting is present in the room.
Is there an abundance of natural light? Or will it be primarily lit by incandescent or florescent bulbs?
The first step toward answering these questions might be to paint squares of primed drywall with the color you're considering. Periodically moving these squares around the room can help you see what the color will look like under different lighting conditions.
It can also be beneficial to consider how light exposure affects the color in a room. If your room is north-facing, you may see a touch of blue added to your color. Eastern exposure adds a hint of green, southern exposure adds yellow-white, and western exposure will add a bit of warm orange.
Consider color flow
The paint colors in your home should work together to create a symphony. Avoid clashes in your color composition by taking into account the paint colors used in other rooms.
Using lighter or darker shades of the same color throughout your home is one simple way to create color flow, according to the experts at Benjamin Moore.
If you'd prefer to mix it up with different colors, try choosing between three and five favorite colors. Have the colors play different roles -- primary, secondary, or accent -- in different rooms. For example, you might use the wall color in the living room as an accent color in an adjacent room.
Pick a primer 
After you've selected a paint color that fits nicely into your home's color palette, you'll want to make sure the paint goes on smoothly and evenly. 
Primers help create an even base for your topcoat of paint. The kind of primer you'll need will depend on what surface you will be painting. A quick guide to choosing an interior primer can be found here.
---