---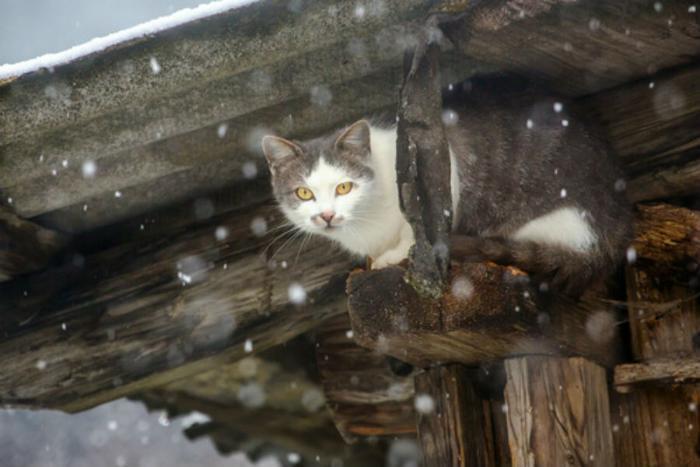 The sight of an outdoor cat wandering around on a cold winter day is enough to tug at anyone's heartstrings. While these cats might be accustomed to fending for themselves, the cold weather certainly adds another layer to the challenge.
Short of taking them in (which is often not feasible when dealing with feral or barn cats), there are several ways you help keep outdoor cats in your neighborhood safe, warm, and fed when the temperature drops.
Give them shelter
Thickened winter coats do help feral and stray cats when the winter chill sets in according to the Humane Society, but they still need warm, dry, well-insulated and appropriate-sized shelters. One thing you can do is provide neighborhood cats with a little house.
"The kind of cat house you want in your neighborhood is approximately two feet by three feet and at least 18 inches high," according to Vetstreet.com. "It's just the right size for a cat or three (so they can snuggle for warmth) but not so large that heat will disperse quickly."
A small doorway, no larger than eight inches wide, will help keep larger predators out, and attaching a plastic flap will help keep warmth in. Blueprints for a feral cat house can be found here.
Extra calories
Both cats and dogs need extra calories during winter to help them stay warm, but outdoor cats' food intake is often random and sparse. The kindness of a stranger can go a long way in keeping outdoor cats fed when the cold weather hits.
Putting out slightly warmed canned food at regular times each day can help keep them healthy. Because canned cat food will freeze if it's not eaten right away, experts say it's also a good idea to leave out plenty of dry food.
The Humane Society recommends placing food and water near the shelter, so the cats won't have to travel far. Protect food and water from freezing by using thick plastic containers or solar-heated pet bowls.
Look under the hood
Outdoor cats often look to car engines for warmth, so it's important to check for their presence before starting the engine. Unfortunately, car engines are responsible for the deaths of many cats each year.
"I've been in the pet industry for thirteen years, and every year there is a story that comes up about a cat that's gotten trapped in a car [engine]," says Jane Harrell, Editor-in-Chief of the Pet Health Network. "Give a little pound on your hood or slam the car door before you start [your car]. It's always a good idea to check underneath your car to see if cats are hiding."
Watch for antifreeze drips as well. Lapping up just a small amount of the sweet liquid — as little as a teaspoon — can kill a cat. Wipe up antifreeze spills right away to protect your own pets and any outdoor cats who may come across them.
---