---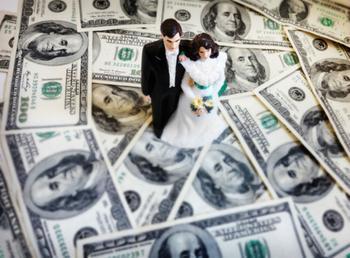 Weddings can be a pricey, budget-busting affair. Keeping costs to a minimum can be enough of a challenge as is, but it can get even more difficult when vendors' pricing is working against you.
The "Wedding Markup" isn't a myth; many vendors do, indeed, charge extra for their services upon hearing the "W" word. To see where couples may be charged more than a vendors' usual price, Consumer Reports dispatched a team of secret shoppers.
In comparing the results of price inquiries for a 50th anniversary party versus a wedding, the team discovered built-in wedding gratuities as high as 26%. The takeaway from the investigation? Consumers should be on the lookout for wedding-related fees hidden in fine print.
Bargain when possible
The secret shopper investigation revealed that some caterers charge a $7 per person cake-cutting fee. Photographers and limousine companies also charged higher fees for identical services if shoppers said "wedding" rather than "anniversary party."
To help keep costs down, brides and grooms-to-be should speak up, ask questions, and even negotiate. Bargaining is allowed, experts say, and doing so can pay off.
"If you're planning a wedding, you need to be aware that you may be paying a premium for products and services in some cases," said Tobie Stanger, senior editor at Consumer Reports in a statement. "You may not think to bargain, but you should."
Stanger adds that while these findings "aren't enough to indict an entire industry," they do serve as a warning to read the fine print before signing on the dotted line.
Money-saving strategies
The secret shopper investigation also unveiled a few other ways couples can save on the big day.
Choose times in low demand. By choosing a low-demand season, time of the day, or day of the week, couples can save big bucks. January and February weddings were found to be the least expensive. Friday and Sunday weddings are much more affordable than Saturday weddings. Opting for a lunch or brunch-centered event, rather than one at dinnertime, can also help couples save.

Compare menu pricing. It might seem like a buffet would be less expensive than a sit-down meal, but because guests may eat more, buffets may actually cost more. Comparing the price of a buffet versus a sit-down meal can help couples choose a more budget-friendly menu.

Limit the open-bar. Limiting the open-bar to a certain amount of time and opting for house brands are a few ways to save on alcohol, according to Consumer Reports.
---