---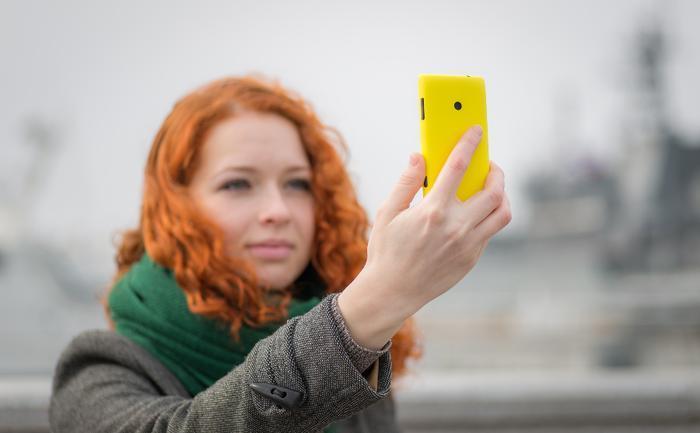 Everyone, it seems – from President Obama on down – is posing for 'selfies," those self-portrait photographs taken by extending a smartphone as far as an arm can reach and snapping a picture.
While it might seem like an exercise in narcissism, Toby Rush, CEO of EyeVerify, sees it as a tool to vastly expand his firm's biometric security product.
EyeVerify, a Kansas City start-up, has developed an application that takes an "eyeprint" of your eye, to work in the place of a password. A great idea, perhaps, but somewhat cumbersome to implement.
But then the "selfie" trend came along, prompting device manufacturers to respond in a way that benefits EyeVerify, and Rush contends, also benefits mobile security.
"This year you're seeing a significant upgrade in front-facing camera capabilities," Rush told ConsumerAffairs. "As manufacturers upgrade those cameras we are able to use them to image and pattern match the blood vessels of your eye."
Front camera usually an after-thought
When you look at marketing material for smartphones you often find a short list of specs. They include processor speed, graphics capability, screen resolution and the resolution of the rear-facing camera.
Little mention has been made of the front-facing camera, since it was rarely used and, when it was, mostly for video chats.
"Now we're seeing enough use-demand for the selfie camera that manufacturers are beginning to upgrade it," Rush said. "We've seen in the last few weeks, and we have information about phones that are coming, where the front-facing camera is now making it on the short list of specs."
Big upgrade
In the last week Chinese manufacturer Huawei has launched a new smartphone featuring an 8 MP front camera, an obvious bow to consumers who now select a device, in part, for its ability to snap a "selfie."
By comparison, the new Samsung Galaxy S5 has a 2 MP front-facing camera, more than ample optics capability to work with EyeVerify's eyeprint system, according to Rush.
Optics are only part of the equation. A smartphone needs the processor speed to handle the complex software required to process the EyeVerify system.
"We have been able to enhance our algorithms and leverage these newer cameras to do that with a common smartphone," Rush said. "What we're doing is leveraging existing hardware on smartphones and tablets that are already widely deployed and will continue to be widely deployed."
Mobile banking security
The eyeprint system's principal application at present is for mobile financial services, though Rush says future uses will quickly emerge. Currently the mobile banking app NetTeller uses it, primarily in Australia.
"When they want to log you into the banking app you hold the phone up 8 to 12 inches away from your face where it would capture the image of your eye," Rush said. "We capture that, process it in under a second and log you in with the equivalent of a 50-character complex password."
It's not just secure, Rush points out, it's also convenient for the consumer.
"We're giving you very high security with something you never have to remember, type in or change," he said.
---