---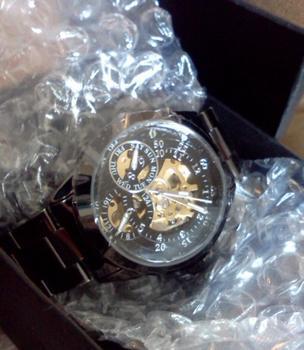 I hope your Christmas was less aggravating than mine. While you were presumably basking in the benefits of Santa's largesse, I spent the week trying and failing to buy my niece a Christmas present from a recalcitrant Chinese watch-seller on eBay.
Which, by itself, wouldn't be worth mentioning — but when I tried taking my business to a different seller, I discovered that multiple "different" watch manufacturers and peddlers on eBay are fronts for the same seller.
eBay did not respond to a ConsumerAffairs request for comment on this story.
Here's what happened: I own a mechanical-skeleton-watch necklace, a piece of jewelry that looks like a little glass sphere from a distance but is actually a windup watch with its brass gears and internal workings all visible inside the glass. I bought it from a Chinese seller on eBay a couple of years ago; it looks like a Victorian antique but is actually modern and mass-produced, and identical watch necklaces are readily found on eBay for well under $20.
When I wore mine while visiting my sibling a few months ago, my 8-year-old niece was absolutely fascinated by the watch. Between that and how inexpensively they're listed on eBay, I figured buying her a similar necklace for Christmas was a no-brainer, right?
Another seller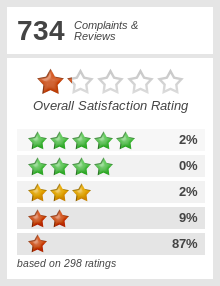 So I searched and found one from an eBay seller called "direct.mart," for $12.99, shipping included; I paid for the item Nov. 30, figuring that would leave plenty of time for a package mailed from Hong Kong to arrive in time for Christmas.
On Dec. 19, the Thursday before Christmas, I left home to visit friends in another state. Checking the mail just before I left, I was relieved to see a small box from Hong Kong – my niece's necklace! Or so I thought, but inside I found not a woman's pendant watch but a man's wristwatch (and a rather ugly one at that).
I shoved the watch in my suitcase (remember, I was literally heading out the door for a ten-hour drive), and in my hotel room that night, I logged on to eBay's customer support, reported "The item doesn't match the seller's description" and, from the available options, requested "a replacement item" in lieu of a refund.
Next morning, the seller responded with an apology and a request for a photo of the wristwatch:
" Hi there, I am so sorry to hear that. The logistic department made a mistake and sent you the wrong item? Would you mind sending a picture about the issue for us? So we can check more and avoid this happening again? …. Thank you for your help on this matter. Please don't worry and trust me, after I confirm the issue, I will offer you the best solution and resolve the problem for you. Looking forward to hearing from you. Regards, Kate"
A reasonable request, I thought; eBay and PayPal (mandatory for all eBay payments) are occasionally notorious for adopting a "seller is always wrong policy," and dishonest buyers can easily get undeserved refunds by falsely claiming items lost. I sent a photo of the wristwatch, along with a note emphasizing that I would prefer a replacement necklace in lieu of a refund.
Three days passed before the seller wrote back, at 8:05 p.m. on Dec. 23:
"Hi there, I really too sad the logistic department made a mistake and sent out double cost more expensive item to instead. It is really too heavy loss to little profit shop. I really cry for that. I wounder if you like me refund you USD3.00 to compensate it? As you see the white one is very luxury and come with a box. It is great as a gift for your family or friend. Please update me your idea and if you like it? We are honest seller on ebay, we will resolve any problem for you . please don't worry, friend. Hope to hear from you soon. Very so sorry about the inconvenience. Best regards, Kate"
Ugly wristwatch
I pay $13 for a girl's necklace, and she offers me three bucks and a man's ugly wristwatch in return? "Cry me an [obscenity deleted] river," I muttered in a most un-festive tone, just before sending this message at 8:30 in the morning on Christmas Eve: "The mistake is indeed sad, as I wanted a skeleton-watch necklace as a present for an 8-year-old girl, and the man's wristwatch I received instead is impossibly too big for her. I would prefer a refund of my full $12.99, so I can buy another present for my niece."
I still wanted a necklace, but concluded that "Kate" and direct.mart wouldn't be a reliable source. No problem, I thought; plenty of sellers on eBay offer similar if not identical watches. I'll just have to pay a little extra for fast shipping, to get the watch before I meet my family after the New Year.
A seller named "summersunny1688" offered a similar skeleton-watch necklace and shipping for $15.88, delivery estimated before New Year's Eve, so I tried buying the necklace with the "Buy it Now" option and saw a message I'd never seen before in the ten-plus years I've had an eBay buyer's account: a pop-up window asking "Buying more items from this seller?" and telling me I had to add the item to my "cart" in order to combine my order and receive any discounts from the seller.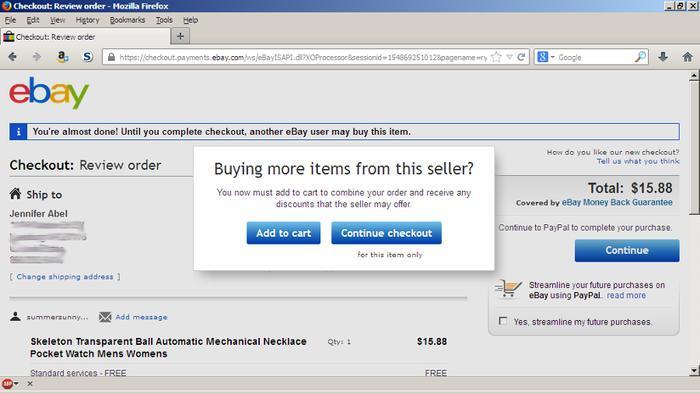 Except I had no idea I was buying "more items from this seller" — and that brouhaha regarding my niece's necklace was the only eBay transaction I had going on. I kept checking auctions and buy-now options from different seller names, but every attempt to buy or bid on a watch netted me the same invitation to add a purchase "to my cart."
Dang. So much for taking my business elsewhere. I sent the seller another message, informing her that I knew my attempts to buy a necklace elsewhere wouldn't work, and reiterating that I either wanted a replacement necklace, or a full refund as soon as possible.
Meanwhile, my eye landed on the cheap cardboard gift box holding the "double cost more expensive" man's wristwatch I'd received in lieu of a little girl's necklace. How much was it worth, anyway? I did a bit of searching and needed almost no time to find an eBay seller offering an identical watch; I sent direct.mart the link and told them: "the allegedly 'double cost more expensive' wristwatch you sent me sells elsewhere on eBay for as little as $1.99 plus $1 shipping, far less than the $12.99 I paid for the necklace watch."
Bad move, because the next time the seller responded, she completely ignored my customer-service issue in order to defend the honor, integrity and giftworthiness of the "double cost more expensive" wristwatch:
"Dear friend, the link you sent me sell 3 items ad the price $1.89 for box only, you can check it from the Band Color: button. And the one you received in our shop high quality and Price: US $19.99 We are honest seller on ebay, we never lie to my buyer. Hope to hear from your idea. I will solve the problem for you . Sincerely apologies to bring you the inconvenience, friend. Best regards, Helen"
Reminder: this is how I spent my Christmas Eve. On Christmas morning I sent the seller a terse message: "I want either the pendant watch I actually ordered and paid for, OR I want my full $12.99 refunded."
And the day after Christmas, the seller made the following counter-offer:
"Hi, I can fully understand you feeling. Sincerely apologies for this accident. I wonder if you could help to bear part of the postage USD6.00 and I resend you the pendant watch? And you keep the one you received and don't need to return? Would you like it? Don't worry, we will resolve it for you soon. Sincerely apologies again,friend. Regards, Kate "
Facepalm. I told her I would not pay additional costs to cover her mistake, had no use for the wristwatch, and wanted either the necklace or a full refund of all money I paid — though I did offer to send the wristwatch back if she sent me a self-addressed stamped envelope along with the necklace.
She told me that the watch supplier was now "on holiday" but offered to refund all my money; that's where matters stand as of press time.
Meanwhile, I wondered: how many other eBay sellers have multiple named accounts for the same business? EBay's "policy review" states that "There are many reasons why users would choose to have more than one eBay account. For example, users who like to buy and sell may want separate accounts for each activity. Other users who maintain businesses on eBay may prefer to manage separate accounts for different product lines."
But there's no mention of sellers managing separate accounts for identical product lines — then again, they're not really separate "accounts" but only separate "names," as my attempts to buy necklaces from "different" sellers proved.
Thus far, eBay's media-relations department hasn't responded to my emailed questions asking how many different names or accounts the average large-scale eBay seller has, or what percentage have only the one account for a given product line versus those with several. And I'm still trying to find a good Christmas-gift idea for my niece.
---