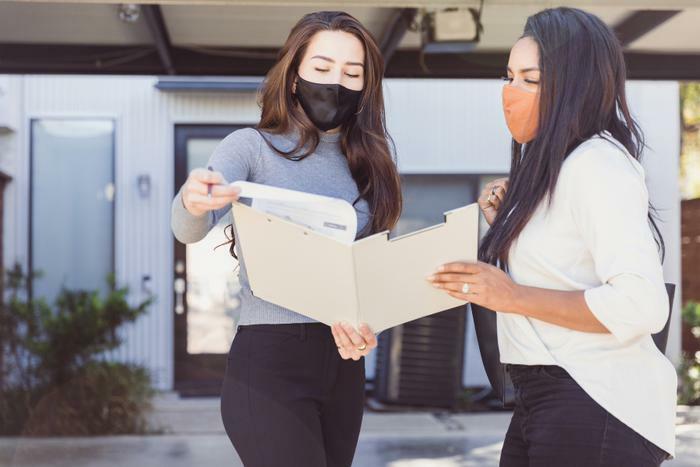 The initial weeks of the COVID-19 pandemic were devastating to the nation's housing market. People who might have been in the market to buy a home didn't want to go into a stranger's house, and homeowners didn't want them there either. Sales stopped.
But a new study by the U.S. Census Bureau and Zillow chronicles what happened next. Millions of apartment dwellers, suddenly working from home --sometimes with small children -- needed more room.
Single-family home sales surged in suburban areas and small cities since proximity to the workplace was often much less important. As a result, rents in large cities like New York plunged while home prices nearly everywhere took off.
Using U.S. Census data, Zillow economists have shown how the effects of the pandemic changed the housing market. Inventory levels of homes for sale rose sharply at first, but the number of homes for sale dropped just as fast as the number of buyers entering the market rose.
Families doubled up to save money
Despite the high demand, not everyone could afford to buy. Zillow researchers say lower-income households were more likely to rent and were also more likely to have lost jobs in hard-hit industries, such as retail, accommodations, and food services.
The research shows that there was an increase in multi-family and multi-generational households as people who were facing financial pressures turned to alternatives, including "doubling up" or moving back in with their families. That change just added to a decline in rental demand.
There was also a migration toward smaller, more affordable cities. Home values in New York, Chicago, and San Francisco slowed, while sales and prices in cities like Des Moines, Charlotte, Kansas City, Phoenix, and Austin rose the most.
Office location now less important
Before the pandemic, most homebuyers made choices based on affordability, amenities, and where they worked. Now, economists say the shift to remote work removes workplace location as a factor, giving homeowners more freedom.
A Zillow survey conducted early in the pandemic found that most people working remotely liked it and wanted to continue doing so once the pandemic was over. If long-term remote work were possible, 66% of them said they'd consider moving somewhere else.
Somewhere else often includes a resort area, and Zillow says there is evidence that towns on the beach or in the mountains are continuing to draw newcomers who are able to work remotely. 
Zillow said it was able to identify vacation towns that have drawn teleworkers by looking at page views, favorites, "likes," and the number of times a visitor saved the URL of a vacation town's website.
The researchers concede that the metrics do not necessarily mean website users are moving to vacation towns, but they point out that the numbers are in line with a 66% growth in pending home sales in vacation towns.