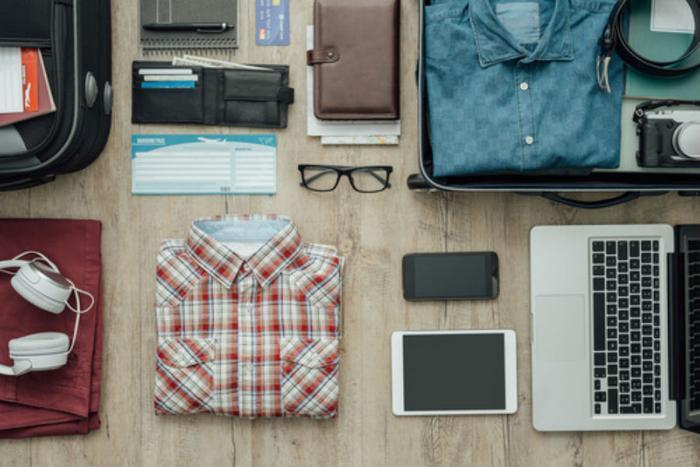 It wasn't until we boarded our train that my husband realized he was missing his travel bag with his iPad. Our techie daughter remotely locked the device and soon got a signal indicating that the iPad was still at the hotel. Our story has a happy ending: the bag was left in our room, turned in to the front desk, and was sent to us the next day.
I wish I could say that's the only experience we've had with a lost item. We've wasted precious time looking for misplaced items, especially difficult while traveling and on a schedule. On our last trip my husband put a Bluetooth tracker in each of our suitcases, making it easy to track and locate them.
There is a never-ending supply of products embracing the latest technologies; many are useful for travelers, making life easier and more enjoyable. Here are five helpers:
1.    Tracking Devices
Trackers are small GPS-type devices that you affix to (or insert in) items you do not want to lose, such as your luggage, keys, or wallet. You then use an app on your smartphone or tablet to track and locate them. Some of these devices use Bluetooth technology.
2.    Portable Charger
Mobile devices use a lot of power and the last thing you want while traveling is a device that quits in the middle of a task. While they won't charge as quickly as a wall charger in an AC outlet, portable chargers are a convenient way to keep charged while traveling.
Some questions to ask before buying a wireless charger: Does the charger support your device? Do you have the correct cords to connect your charger to your device? It's important that the charger supports both an iPhone and tablet. Charge times vary depending on your device, so make sure that you have a charger that will sufficiently recharge your device as quickly as possible.
3.    SD Card
It's a hassle to return from a trip and transfer photos from several different devices to your computer. SD cards make it easier by allowing you to transfer your photos from your camera directly to your cellular phone and iPad using an SD Card Camera Reader.  
4.    Mobile Hot Spot
Who hasn't hunted for a Starbucks in the United States seeking free Wi-Fi? While most of us want to remain connected while traveling, it's crucial that we connect in ways that are safe and reasonable. Relying on Wi-Fi can pose a security risk and many hotels charge fees for their Wi-Fi, which isn't always reliable. Hotspots can fill the gap; they provide more security and usually have enough charge to last all day long and if not, can be charged with a portable charger or by plugging into an outlet (just remember to bring a USB cord and wall charger).
5.    Camera Monitoring or Video Surveillance Devices
It can be comforting to keep an eye on things at home while away. There are a variety of options at diverse price points to monitor different parts of your home with motion detection, audio, and also recording events.  
Many companies manufacture and sell these products. Be a savvy consumer and do your own due diligence to find products and companies that meet your unique needs.