---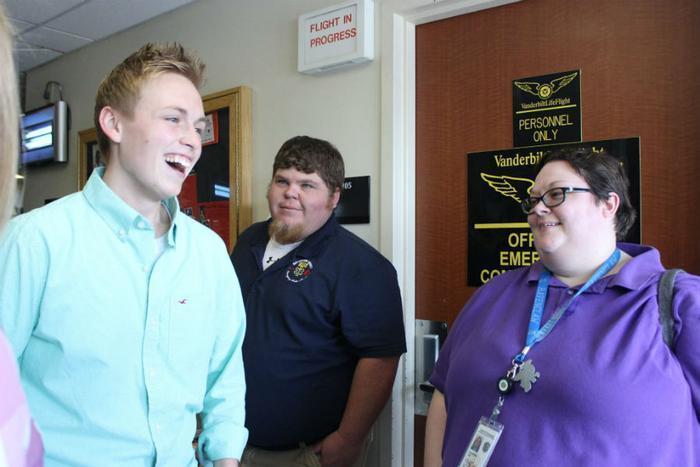 Let's acknowledge up front that this story is an Apple publicist's dream. A young iPhone owner is looking death in the face until Siri – the disembodied and ever-present voice on iPhones -- comes riding to the rescue.
The story is actually told by publicists at Vanderbilt University Hospital in Nashville, where 18-year old Sam Ray was brought in last month with broken bones and internal injuries. But doctors says he might just as easily have made a trip to the morgue instead.
The recent high school graduate was working on his truck in his driveway. Ray had jacked up the vehicle so he could work beneath it.
Needing advice, Ray pulled out his phone and called his father, who advised his son to get out from beneath the truck and wait for him to come home. Ray agreed and put his phone in his back pocket and proceeded to slide out from under the truck. Just then the jack gave way and the 5,000 pound vehicle came crashing down on the young man.
Arms pinned down
The situation was all the more dire because Ray's arms were trapped, making it impossible to access his phone. The phone, however, was in his back pocket so Ray maneuvered his hip as best he could until he managed to push the button to summon Siri. The next thing he knew, a 911 dispatcher was on the line, her voice coming from his back pocket.
"When I heard a woman talking from inside my pocket, I just started shouting," Ray said. "I didn't know if she could hear me or not, but I heard her say that help was just around the corner."
It wasn't long before responders with Rutherford County, Tenn.'s Emergency Medical Services, the Rutherford County Sheriff's Department, the Rutherford County Fire Department, and the Tennessee Highway Patrol responded to the 911 call. They were able to move him out from under the vehicle and then transported him to the Vanderbilt LifeFlight base in Murfreesboro, where he was then flown to Vanderbilt.
Guardian angel
"We're always concerned with crush injuries, and the longer a patient is trapped, the more problems they can have," said Kirk Krokosky, one of Vanderbilt's flight nurses. "He could have been there for hours, but as fate would have it, Siri was sort of his guardian angel."

Doctors say during the estimated 40 minutes the teen was under his truck, he sustained three broken ribs, a bruised kidney, a cut on the forehead, and second- and third-degree burns to one arm that was under the exhaust pipe.

However, an accident like this could have easily had a very different outcome, said his doctor, Richard Miller, M.D., Chief of Trauma and Surgical Critical Care and professor of Surgery at Vanderbilt.
Very lucky
"He's very lucky. He ended up sustaining injuries that are easily recoverable, but it could have potentially been very serious," Miller said. "A tool like Siri is a modern-day rescue item that we didn't have in the past and potentially saved him from more serious or long-term complications from his crush injury."
Of course, the iPhone isn't the only device with a voice-activated interface. Android phones have a similar feature as well. As a safety precaution, perhaps all of us should learn the art of butt-dialing to summon our phones' helper, so that if we find ourselves immobilized we can summon help.
And maybe Apple should think about changing Siri's name to Lassie.
---