---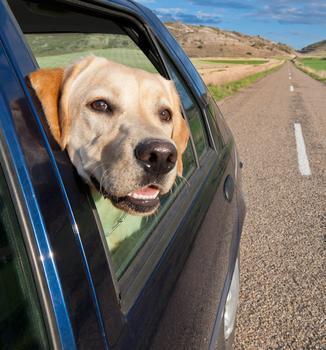 It's hard to imagine, but 50 years ago most cars didn't have seat belts. It's only been in recent decades that passenger restraints and other safety features have become accepted standard equipment on U.S. passenger cars and trucks.
But these safety features are for the people riding in cars and trucks. What about pets who happen to be passengers? If you've paid attention to other cars on roads and highways, you've probably noticed that there are a lot of four-legged riders these days.
In an accident, or when the driver slams on the brakes to avoid one, unrestrained pets can be hurt or killed. An often-cited study by the pet safety organization Paws to Click estimates 30,000 pets are killed each year while riding in a vehicle. A 2010 survey of 1,000 pet owners by AAA found a third let animals ride in a vehicle unrestrained while 21 percent admitted to letting an animal sit on their lap while they drove.
Safest cars for pets
Automotive site Edmunds.com recently produced a list of what it says are the safest vehicles for pets. It found 10 SUV's, minivans, hatchbacks and wagons that offer the most safety and comfort for animals.
"Not only are these vehicles safe for pets, but they also offer a certain measure of convenience for pet owners," said Edmunds.com Automotive Content Editor Warren Clarke. "And with each one of these vehicles starting at under $35,000, owners won't have to chase their own tails to make ends meet."
On the list are:
Pet restraints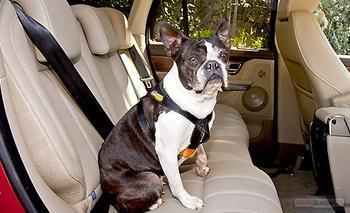 Of course, not everyone is going to buy a new car just to increase their pet's safety and comfort, though some undoubtedly will. For those who plan to hang onto their present vehicles, manufacturers offer a number of pet restraints.
A popular choice for dogs is a harness that snaps into your car's seatbelt latch. There are many different styles and brands but they all generally work the same.
According to BarkBuckleUp, a company that sells restraining harnesses, at a speed of just 35 miles per hour, a 60-pound unrestrained dog can cause an impact of 2,700 pounds, slamming into a car seat, windshield, or passenger. The company says 98% of dogs do not travel properly restrained in a moving vehicle.
Strong reservations
But the Center for Pet Safety has voiced strong reservations about these harness restraints. In a pilot study it said it found a 100% failure rate among all the harness devices tested. None, it says, was deemed safe enough to protect both the dog and the humans in the event of an accident.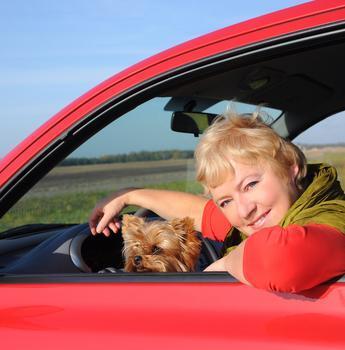 The organization refused to reveal the brands of the harnesses tested, saying it didn't want to discourage companies from creating products to protect animals. They just want the products to be better.
"Our primary concern is not to attack individual manufacturers for selling well-intentioned products," the group said in a statement. "If we share brands at this early stage in our work, we shift the focus away from what is truly needed: measurable, safe standards that manufacturers can follow for the benefit of consumers."
Until then there may be things pet owners can do to make their animals safer. Nearly every expert agrees that driving with your pet on your lap is a serious safety issue. Besides being a distraction, it can make it harder for a driver to respond to road emergencies.
A pet barrier might be a way to make your pet safer while traveling. Available in a variety of sizes for wagons, minivans, or SUVs, a barrier gives your pet some room to move, but keeps them safely contained behind the rear seat and off the upholstery.
---