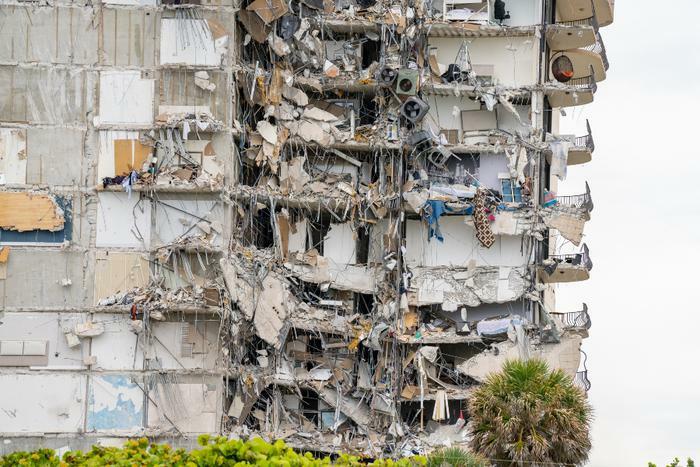 The tragic collapse of a 13-story condominium building in Surfside, Fla., near Miami, riveted the nation's attention. For many of the estimated 73 million Americans who live in condominiums, it raised other troubling questions.
How can a building simply collapse, and could other such buildings be vulnerable? While these types of events are rare, the recent tragedy has many condo dwellers worried. Julio Ramirez, a Karl H. Kettelhut professor of civil engineering at Purdue University, says these types of failures are "infrequent" and suggests the collapse was caused by a combination of fatal flaws.
"Some initial information seems to be pointing to the presence of extensive corrosion of the reinforcement and damage to concrete as one contributing factor," Ramirez told ConsumerAffairs. "Thus, the environment and proper maintenance can be identified as factors to be investigated."
Know when to take action
Ramirez said a serious forensic investigation of the structure will involve the gathering of design and construction information, such as materials and how they were used. The building's proximity to the ocean and the corrosive effects of saltwater may have called for unique building specifications.
Ramirez says a reinforced concrete structure will be typically cracked in discrete locations under everyday service loads. The key is that an adequate amount and distribution of steel reinforcement will keep those cracks from becoming excessively wide. When wide cracks appear, it's time to take action. 
Adam Mopsick -- CEO of Amicon, a South Florida real estate firm specializing in owner representation, design-build, and property inspections -- suggests that condo residents and their representatives take a proactive approach to building maintenance.
Be proactive and vigilant
When an inspection reveals the need for remediation work on a building, Mopsick says condo owners need to be part of the process and should hire an experienced project manager to guide them.
"Condo association board members are ultimately volunteers and usually do not have the construction experience needed to manage a project of this magnitude," Mopsick said. "A local project manager in the condo space has developed a network of expert partners, understands how to compile all of the required information from the respective specialty experts, and develop and manage a project."
Ramirez makes clear that condo owners don't need to be afraid, but they do need to be vigilant, just as single-family homeowners would monitor the condition of their homes. High-rise buildings along the coast may require special vigilance that the 40-year-old Champlain Towers South building in Surfside apparently did not receive.
"Proper maintenance is essential and keeping records of such maintenance is critical," Ramirez said. "I believe that waiting 40 years to certify a building in service in an aggressive environment such as coastal areas is simply not frequent enough."
Additional reporting for this story was provided by Gary Guthrie.