---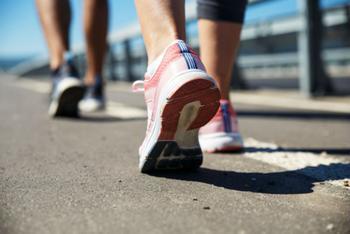 Whether you're tied to a desk or in the middle of a Netflix binge, you may find yourself sitting for long periods of time.
Prolonged periods of inactivity don't do any favors for your health, of course. Sitting for eight hours a day may, in fact, raise your risk of meeting an untimely death due to heart disease, diabetes, or even some cancers.
But new research shows there's something you can do to counteract the effects of a sedentary day -- and it's manageable, even for office workers without gym memberships.
One hour of physical activity
A new study finds that just one hour of physical activity a day is all it takes to undo the negative health consequences of sitting all day. 
And for those who lack athletic prowess, there's good news: you don't have to play sports or head to the gym to knock out that hour of physical activity. The simple act of moving is what counts, says lead researcher Ulf Ekelund of the Norwegian School of Sports Science and the University of Cambridge.
"It's possible to reduce, or even eliminate [risks of health problems like heart attacks, kidney diseases, chronic diseases, and colorectal cancer] if we are active enough, even without having to take up sports or go to the gym," Ekelund said in a statement, emphasizing that the "message is a positive one."
Possible activities
Squeezing in an hour of activity might be easier than you think. Physical activity could include a brisk walk, a morning run, or a spin around the neighborhood on a bike, the researchers say.
Such activities could be woven into a person's day before or after work or even during a lunch hour. If you can't clock the full hour, Ekelund suggests aiming for at least some exercise each day.
"An hour of physical activity per day is the ideal," he states, "But if this is unmanageable, then at least doing some exercise each day can help reduce the risk."
The full study, part of a four-paper series, has been published in The Lancet.
---