---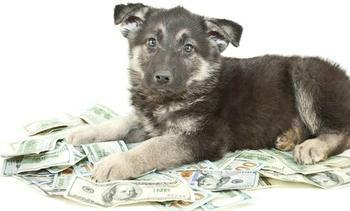 Pet owners often spare no expense in caring for their beloved pets. From keeping the treat jar stocked to ensuring only the finest food graces their bowl, the day-to-day cost of owning a pet can add up.  
If you've ever wondered how much it costs to own a dog per year, you're not alone. Luckily, you don't have to break out your calculator to find out.
The American Society for the Prevention of Cruelty to Animals (ASPCA) has crunched the numbers on dog ownership. As it turns out, the size of your pup may impact how much you spend during the first year and beyond.
Cost of the first year
If you chose to adopt one of the gentle giants of the dog world, you can expect to shell out a bit more during your first year of dog ownership.
Expenses such as spaying, neutering, training, initial medical fees, and the cost of a crate are likely to set large breed dog owners back about $1,843 during the first year.   
If your dog is on the smaller side, your expenses will be too. Small breed dog owners can expect to spend around $1,314, according to the American Society for the Prevention of Cruelty to Animals.
After the first year
Once you've made it to the other side of the first year, the cost of owning a dog drops -- but that's not to say that it isn't still expensive.
The ASPCA estimates that large breed dog owners (who often spend more on dog food) spend approximately $875 per year. Small breed dog owners, on the other hand, may spend roughly $580 per year on dog food and other dog-related expenses.
But keeping Fido well fed isn't always the most expensive aspect of dog ownership. For many pet owners, emergency vet bills are the priciest part of having a furry sidekick.
Keeping dogs healthy
"Unexpected veterinary bills are the most common, and most costly, variables in dog ownership," Kathryn Lisko, education specialist at Rover.com, told USA Today. "Healthy habits like regular exercise and teeth brushing can curb those expenses, but dog owners need to be prepared."
How can pet owners prepare? Experts agree that preventative health care and early intervention are both key when it comes to keeping dogs healthy.
To keep unexpected vet bills from cropping up, pet parents should take their dog to get regular checkups and make sure their teeth stay clean. It's also important to make sure fleas and ticks don't hitch a ride on your pooch, as infestations can lead to life-threatening illnesses.  
---