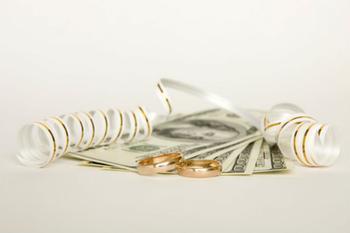 Couples planning to tie the knot this year may be in for some postnuptial sticker shock. A new study has found that the average cost for a wedding has hit an all-time high.
For its 10th Annual Real Weddings Study, the Knot surveyed nearly 13,000 brides and grooms who got married in 2016. Findings showed that the national average cost of a wedding reached a record high of $35,329 last year -- an increase of $2,688 from the 2015 average.
While the cost of a wedding may have increased, the average number of invited guests seems to have decreased. But friends and loved ones who do make the guest list may be treated to an exceptionally memorable experience.
Customized guest entertainment
Last year, the average number of wedding guests was 141, which represents a drop from the 2009 average of 149. Meanwhile, the average cost per wedding guest has risen to $245 from $194 in 2009.
"Wedding [spending] continues to rise, but at the same time, guest lists are shrinking as couples spend more per guest to create an unforgettable experience for those closest to them," said Kellie Gould, editor in chief of The Knot.
"Couples are also using their wedding day to make their first big statement as a couple. From invitations to the reception band, couples are spending more to put their personal stamp on every detail," she added. 
For 75% of couples, those personalized details are likely to include a "signature" wedding element, such as a signature cocktail or a scotch or bourbon bar. Guest entertainment has also reached new heights. The incorporation of elements such as photo booths, games, musical performances, and fireworks has increased from 11% to 41% since 2009.
Church weddings drop in popularity
Additional findings from the study showed that the cost of a wedding varies by location. Manhattan was the most expensive place to get hitched, with an average cost of $78,464. Arkansas was the cheapest at $19,522.
The Knot also found that churches are becoming less popular places to exchange 'I do's.' Only 26% of couples had a ceremony in a religious institution, down from 41% in 2009. Instead, couples are choosing to begin their next chapter at farms, barns, ranches, homes, and historic buildings.
Other key findings from the study were as follows:
Average spent on a wedding dress: $1,564

Average marrying age: bride, 29; groom, 31

Most popular month to get engaged: December (15%)

Average length of engagement: 15 months

Most popular month to get married: October (16%) and September (16%)