---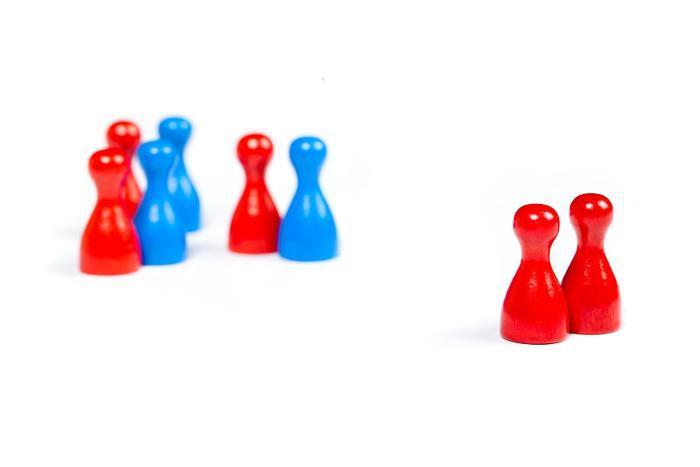 Photo (c) fotogestoeber - Fotolia
To hear defenders of "traditional" lifestyles tell it, you'd think the entire country had turned gay. And in fact, Gallup reports that the American public estimates on average that 23% of Americans are gay or lesbian, little changed from Americans' 25% estimate in 2011.
These estimates are many times higher than the 3.8% of the adult population who identified themselves as lesbian, gay, bisexual or transgender in Gallup Daily tracking in the first four months of this year.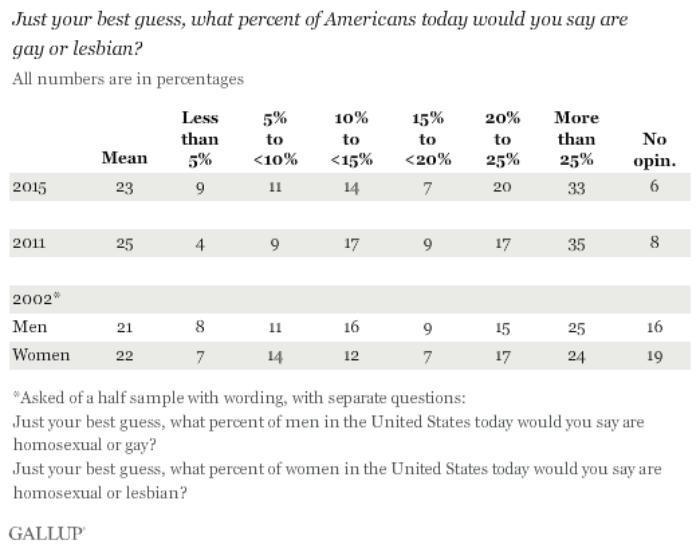 Stable estimates, changing attitudes
It's interesting that these wildly inaccurate estimates have remained so stable over time while attitudes about the morality and legality of gay and lesbian relations have changed so markedly in the past two decades.
Whereas 38% of Americans said gay and lesbian relations were morally acceptable in 2002, that number has risen to 63% today. And while 35% of Americans favored legalized same-sex marriage in 1999, 60% favor it today.
The U.S. Census Bureau documents the number of individuals living in same-sex households but has not historically identified individuals as gay or lesbian per se. Several other surveys, governmental and non-governmental, have over the years measured sexual orientation, but the largest such study by far has been the Gallup Daily tracking measure instituted in June 2012.
In this ongoing study, respondents are asked "Do you, personally, identify as lesbian, gay, bisexual or transgender?" with 3.8% being the most recent result, obtained from more than 58,000 interviews conducted in the first four months of this year.
Wildly off the mark
Of course, what people say and what they do are not always the same, as Gallup concedes. As it pointed out in its initial report of LGBT data in 2012, "Exactly who makes up the LGBT community and how this group should be measured is a subject of some debate."
Still, all available estimates of the actual gay and lesbian population in the U.S. are far lower than what the public estimates, and no measurement procedure has produced any figures suggesting that more than one out of five Americans are gay or lesbian.
The widely off-the-mark nature of Americans' estimates is underscored by the finding that in the most recent update, from May 6-10, only 9% of Americans estimate that the gay and lesbian population is less than 5% -- where Gallup's tracking figure would put it -- while at the other end of the spectrum, 33% estimate it as more than 25%.
Poor statistical skills
Part of the explanation for the inaccurate estimates rests with Americans' general unfamiliarity with numbers and demography.
Previous research has shown that Americans estimate that a third of the U.S. population is black, and believe almost three in 10 are Hispanic, more than twice what the actual percentages were as measured by the census at the time of the research.
Americans with the highest levels of education make the lowest estimates of the gay and lesbian population, underscoring the assumption that part of the reason for the overestimate is a lack of exposure to demographic data.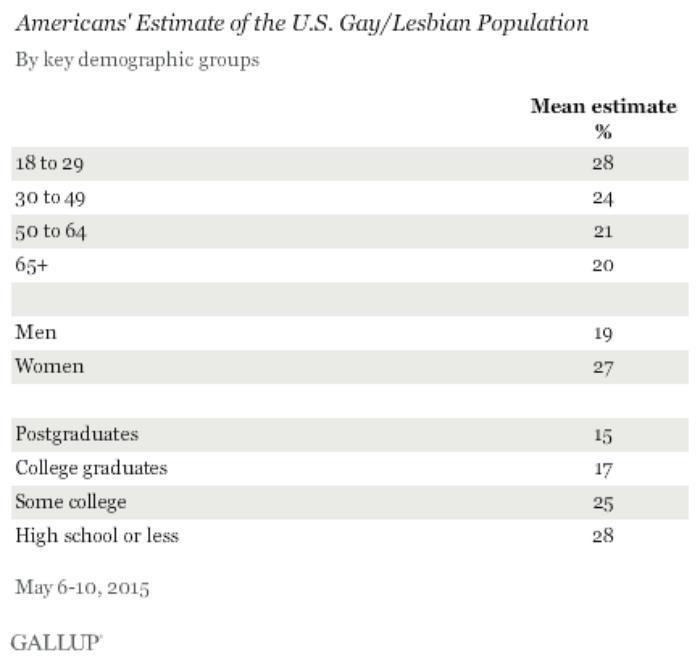 Survey Methods
Results for this Gallup poll are based on telephone interviews conducted May 6-10, 2015, with a random sample of 1,024 adults, aged 18 and older, living in all 50 U.S. states and the District of Columbia. For results based on the total sample of national adults, the margin of sampling error is ±4 percentage points at the 95% confidence level. All reported margins of sampling error include computed design effects for weighting.
Each sample of national adults includes a minimum quota of 50% cellphone respondents and 50% landline respondents, with additional minimum quotas by time zone within region. Landline and cellular telephone numbers are selected using random-digit-
---