---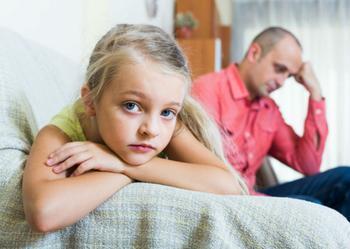 It may be true that a happy wife equals a happy life, but dad's mood may be just as important when it comes to creating a happy household filled with happy kids.
Researchers from Michigan State University debunked the myth that fathers have a lesser impact on children's development compared to moms when they found that kids are negatively affected by their father's parenting-related stress.
An analysis of data from a survey of 730 families in Early Head Start programs revealed that dads who were stressed or suffering from a mental health issue, such as depression, had an impact on their children's cognitive and language development.
Dads' key role
Kids as young as 2 to 3 years old were affected by their fathers' parenting-related stress. This finding held true even under mom's influence, proving that moms aren't the only ones whose role is crucial to children's development.
"There's this whole idea that grew out of past research that dads really don't have direct effects on their kids, that they just kind of create the tone for the household and that moms are the ones who affect their children's development," Claire Vallotton, associate professor and primary investigator on the research project, told MSUToday. "But here we show that fathers really do have a direct effect on kids, both in the short term and long term."
Long term effects revealed themselves in the form of social skill development. Toddlers whose fathers suffered from depression or other mental health issues had a more difficult time grasping important social skills, such as self-control and coordination, by the time they reached late elementary school.
Both parents matter
This research provides evidence to support the fact that fathers' characteristics and their relationships with their children matter, said lead author Tamesha Harewood.
Fathers aren't simply a fixture in the home. Rather, they are important figures in a child's life who are capable of impacting children's social development for better or for worse. For this reason, Harewood says fathers should be included in parenting research and family-intervention programs.
The findings are published in the journals Early Childhood Research Quarterly and Infant and Child Development.
---