---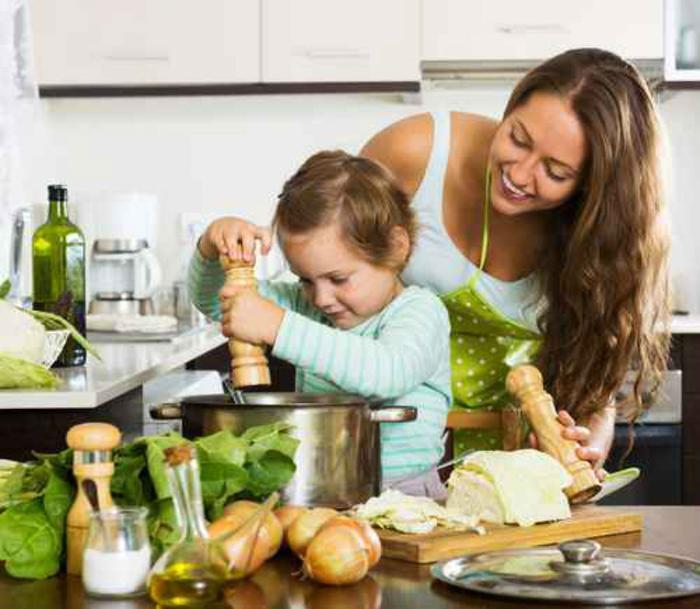 More than ever, kids are sharing adults' preoccupation with cooking. Shows like MasterChef Junior and Kids Baking Championship serve up this heightened interest with a healthy dose of competition. Off-screen, however, parents are seeing kids cooking programs help build kids' culinary confidence and strengthen their family bond.
The iCook 4-H program seeks to increase both culinary skills and physical activity while promoting family mealtime. Each of the six two-hour lessons includes a nutritional component tied with the cooking lesson and a physical activity, such as playing a game, says Kendra Kattelmann, director of the didactic program in dietetics at South Dakota State University. "The lessons talk about better choices, healthier choices," she said.
The objective of the project was to test whether a two-year intervention — based on boosting kids' culinary confidence, increasing physical activity, and increasing family meals — can positively impact the BMI of youth. Since decreased frequency of family meals has been associated with low socioeconomic status and obesity in children, recruitment for the program was done in lower income areas, such as schools with at least half of students eligible for free or reduced price lunch. 
Creates lifetime habits
The five-year National Institute of Food and Agriculture project — which began in August 2012 and will end on July 31, 2016— aims to help kids in the 9-to-10-year old age range discover that healthy dishes can be as fun to make as they are tasty. Proponents hope that the lessons learned will help children make healthier choices as they get older.
For many of the program's participants, the lessons learned at iCook have seen everyday use, both in the kitchen and at the table. "I learned how to make a bunch of healthy foods and how to stay healthy," said Sarah Dunn, adding that she made steamed vegetables and spinach smoothies that "actually tasted good." And Sarah's parents, Jeff and Julie Dunn, say they still use the lessons they learned on how better to prompt mealtime conversations.
Rather than asking "How was school?" explains Julie, they now say, "Tell me two good or not-so-good things about your day." Adds Jeff: "It's all about getting some face time."
Through combining healthy cooking skills with physical activity, the program also tries to help prevent childhood obesity. However, says Sarah Colby, an assistant professor in UT's Department of Nutrition and Coordinator of iCook 4-H, "We don't focus on weight at all." The focus, rather, is on helping families enjoy food, cooking, physical activity, and being together. "Having a healthy weight is something that can come from healthy living," says Colby.
Parental education
Researchers have identified lack of parental education in nutrition, sedentary lifestyles, availability of high-caloric foods, and scarcity of healthful foods as contributing to the obesity crisis, says the USDA.
Because parents play such a big role in their children's health, the program gathers accelerometer data from parents as well as a portion (25%) of the children. Adults' progress is measured in terms of kitchen proficiency, attitudes and practices on child feeding and obesity proneness, family mealtime characteristics, and quality of life.
The states participating in iCook 4-H were Tennessee, Maine, Nebraska, South Dakota, and West Virginia.
To help kids learn lessons similar to those taught in the iCook 4-H program, check out a kids cooking school near you. A state-by-state guide can be found here. 
---