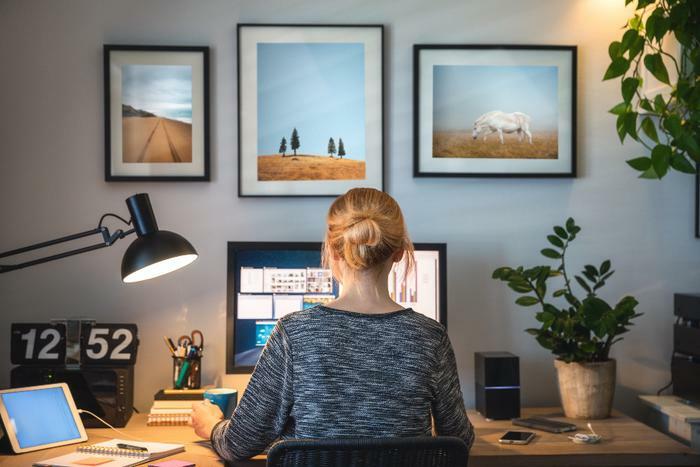 The COVID-19 pandemic has changed the way many consumers go to work each day; rather than a long commute on public transportation, remote working has turned many kitchen tables and spare bedrooms into home offices. While working from home is more convenient for many people, it doesn't come without its own set of challenges. Now, researchers are explaining how to get the most out of remote work. 
According to researchers from Rensselaer Polytechnic Institute, having boundaries between work life and personal life is vital to maintaining workplace success while at home. Their study highlighted the best tips that have been collected from more than twenty years of data about remote working. 
"A key challenge most people face when they work from home is how to effectively navigate the boundaries between their work life and home life, all while continuing to be efficient and productive in their job," said researcher Timothy D. Golden. "The need to be able to adeptly manage the boundaries between work and family is absolutely critical today." 
Getting organized at home
The COVID-19 pandemic has forced more consumers than ever before to work from home, and many have now been home for over a year. Finding success at work, while also still being able to relax at home, can be difficult. 
For consumers to make the most of their time working at home, the researchers recommend having an organizational system. Sticking to a consistent routine each day is likely to yield the best work-from-home outcomes. It's also important to identify things that could be the biggest distractions at home. What things are likely to make the most noise? What things could pull your attention from time-sensitive tasks? For a good roundup of remote work equipment and collaboration tools, checkout B2B Reviews' remote work toolkit. 
Working from home, especially in the last year, often means having several family members in close proximity. Golden explained that setting boundaries with other people in the home, especially where noise and distractions are concerned, can help consumers focus on their work. 
"You're in a different physical and mental space when you're working remotely or in the home domain," said Golden. "Communication becomes particularly crucial when you're immersed in the home environment to balance everything successfully."