---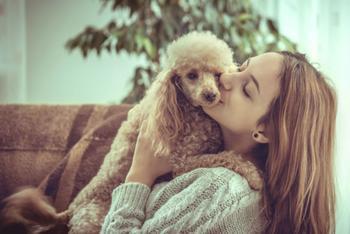 Pet owners show love to their favorite companions in many different ways. Whether it's by stopping by the dog bakery or buying Fido a snazzy, bedazzled collar, it's clear that we enjoy spoiling our pets.
More than $60 billion will be spent on pets in 2016, according to the American Pet Products Association. So where is all of this money being spent? Here are just a few of the ways Americans are splurging on their pets.
Wearable tech
If you've ever picked up a dog from doggy daycare, you know pet owners often want the 411 on what their pooch has been up to all day. Now, tracking a dog's daily activity has become easier with wearable tech.
Companies like Whistle are giving dog owners the ability to track and analyze their pup's daily activity. The Whistle Activity Monitor is an on-collar device that measures dogs' activities, allowing owners to take stock of day-to-day behavior and long-term health trends.
The monitor also enables owners to track a pet's location on their smartphone and share memorable moments with family and friends. It might also come in handy at the vet, where owners can use the data to make informed decisions.
Dog house AC
As we say in winter, "If you're cold, they're cold." But the same logic holds true in the summer: if you're hot, they're hot. To help keep pets comfortable outside, some pet owners are installing small air conditioning units in the dog house.
The Climate Right is a portable air conditioner that can help keep dogs cool when the weather is just the opposite. The air conditioner attaches to the back of an average dog house and disperses cool air, transforming the dog house into a climate-controlled environment on even the steamiest days.
In-home daycare
We want to be there for our dogs all the time, but work and other obligations can mean owners must be away from their dogs. Instead of leaving Fido home alone or taking him to doggy daycare, many pet owners are opting for an in-home pet sitter.
DogVacay is one of the sites pet owners are using to find a caretaker for their canine companions. The site connects owners with local sitters who can provide care for as long as needed, whether it's just while you're at work or for the whole weekend. Owners can even receive daily photo updates to help them rest easy knowing their pup is having a great time.
---