---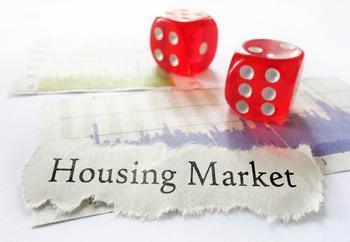 It hasn't been quick and it hasn't been easy, but the housing market is moving steadily toward what has traditionally been considered "normal."
According to the National Association of Home Builders (NAHB)/First American Leading Markets Index (LMI), markets in 146 of the approximately 340 metro areas across the U.S. returned to or exceeded their last normal levels of economic and housing activity in the second quarter. This marks a year-over-year net gain of 66 markets.
The index's nationwide score is now up to .97, which means that based on current permit, price, and employment data, the nationwide average is running at 97% of normal economic and housing activity. Additionally, 91% of markets have shown an improvement year over year.
"This gradual uptick is in line with NAHB's forecast for a slow but steady recovery of the housing market," said NAHB Chairman Ed Brady. "With a strengthening economy, solid job growth and low mortgage interest rates, the market should continue on an upward trajectory throughout the rest of the year."
Measurable progress
Baton Rouge, La., again tops the list of major metros on the LMI, with a score of 1.61 -- or 61% better than its last normal market level. Other major metros at the head of the list include Austin, Texas; Honolulu; and San Jose, Calif. Rounding out the top 10 are Houston; Provo, Utah; Spokane, Wash.; Nashville, Tenn.; Los Angeles; and Oklahoma City.
Among smaller metros, both Odessa and Midland, Texas, have LMI scores of 2.0 or better, meaning that their markets are now at double their strength prior to the recession. Also at the top of that group are Manhattan, Kan.; Walla Walla, Wash.; and Grand Forks, N.D.
The LMI examines metro areas to identify those that are now approaching and exceeding their previous normal levels of economic and housing activity. Approximately 340 metro areas are scored by taking their average permit, price, and employment levels for the past 12 months and dividing each by their annual average over the last period of normal growth.
For single-family permits and home prices, 2000-2003 is used as the last normal period, and for employment, 2007 is the base comparison. The three components are then averaged to provide an overall score for each market; a national score is calculated based on national measures of the three metrics.
An index value above one indicates that a market has advanced beyond its previous normal level of economic activity.
"Among the LMI components, house prices are making the most far-reaching progress, with almost 97% of markets having returned to or exceeded their last normal levels. Meanwhile, 78 metros have reached or exceeded normal employment activity," said NAHB Chief Economist Robert Dietz. "Single-family permits have edged up to 50% of normal activity, but remain the sluggish element of the index."
---