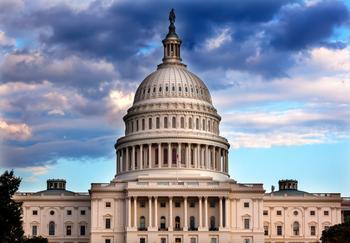 While most of the nation was glued to the screen Thursday watching ex-FBI Director James Comey's testimony before a Senate panel, the House was passing a bill that would scrap much of the Dodd-Frank financial overhaul law, passed in 2010 in response to the financial crisis of 2008.
The measure, dubbed the Financial Choice Act, passed the House on a 233-186 vote but is given little chance of passing the Senate. Democrats unanimously opposed the measure, as did one lone Republican, Rep. Walter Jones (R-N.C.).
The bill would scrap many of the regulatory requirements imposed on banks and would subject new regulations to a cost-benefit analysis. It would also repeal rules that restrict banks from speculative trading.
Praised and denounced
Republicans spoke glowingly of the bill, with House Speaker Paul Ryan (R-Wis.) saying it "delivers the regulatory relief these small banks so desperately need."
Consumer groups were heated in their denuciations of the measure.
"Lawmakers who voted for this bill are granting Wall Street megabanks and predatory lenders a license to defraud ordinary Americans, and to put our economic security at risk for the narrow, short-term gains of a tiny elite," said Lisa Donner, executive director, Americans for Financial Reform. "Consumers, investors and anyone who felt the impact of the financial crisis and recession will want to fight to ensure that not just the whole bill, but the set of dangerous proposals it includes, die in the Senate."
Alys Cohen, staff attorney at the National Consumer Law Center, dubbed it the Wrong Choice Act.
"The Financial Choice Act of 2017 is breathtaking in its assault on ordinary Americans, responsible companies who want a level playing field, and safeguards for the economy as a whole," she said.
"This Wrong Choice Act makes it easy for lawbreaking financial companies to deny people their day in court, for predatory lenders to put people into a debt trap, and for abusive financial enterprises of all types to go back to their reckless ways without a consumer watchdog looking out for ordinary people," Cohen said, calling the bill "a grab bag of gimmies for Wall Street and predatory lenders."
Yesterday's vote was largely symbolic, given the likelihood the measure will go nowhere in the Senate, but sponsors are likely to introduced some of its more notable provisions as separate bills later in the session.