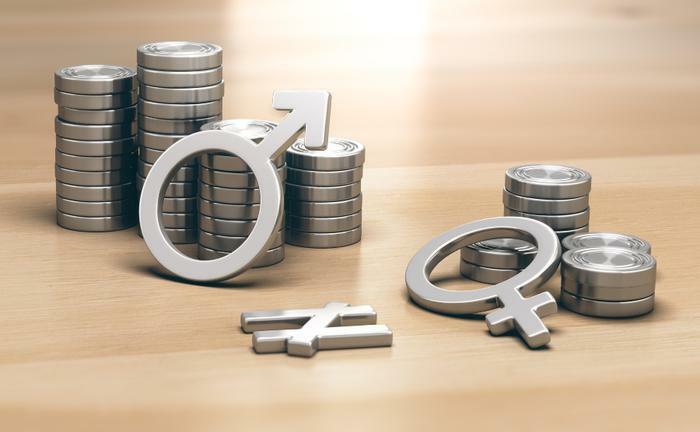 The U.S. House of Representatives passed an overhaul of existing labor laws on Thursday. If enacted as written, the new bill -- the Paycheck Fairness Act --  should provide "more effective remedies to victims of discrimination in the payment of wages on the basis of sex, and for other purposes."
The legislation certainly has a champion in President Biden. He said the bill is "more than just an economic imperative — it's a moral imperative as well." 
"We are still a long way from achieving pay equity in America. In nearly every job — more than 90 percent of occupations — women are still earning less than men. ... Those gaps are an affront to our values as a nation — they are unacceptable to me, and they should be unacceptable to every single American," Biden said.
Addressing the gender pay gap
Studies show that there are sizable gender pay gaps across America. In Provo, Utah, the median income for a woman is 40% less than a man, and the White House cited data showing that Black women make only 63 cents for every dollar a white man earns.
To rectify situations like that, the Paycheck Fairness Act would amend portions of two existing laws: the Fair Labor Standards Act of 1938 and the Equal Pay Act of 1963. It would update enforcement, remedies, and exceptions to prohibitions against gender discrimination in what workers are paid.
The proposal sends a signal to employers that if they "acted with malice or reckless indifference," they're looking at "punitive damages as may be appropriate."
One intriguing part of the legislation is closing the gender pay gap among teenagers -- the age group from which pay gaps originated. To close that gap, the legislation would prompt a serious examination of the average amount earned by teenage boys and girls in informal jobs (such as babysitting) and formal jobs (like positions in retail and restaurants).
Retailers express opposition while advocates praise bill
ConsumerAffairs found that there's also a gap in the way organizations are responding to the legislation. 
When ConsumerAffairs reached out to the National Retail Federation (NRF) for comment, the organization shared a letter it penned to House Speaker Nancy Pelosi (D-CA) and Minority Leader Kevin McCarthy (R-CA). The NRF's stance is that the new act could be costly for employers to defend against in court and that there are already laws in place that provide necessary protections.
"This legislation will significantly limit legitimate, non-discriminatory pay differences and provide for unlimited compensatory and punitive damages in certain instances." the NRF wrote.
"Two federal statutes already bar gender-based pay discrimination. Both the Equal Pay  Act of 1963 and Title VII of the Civil Rights Act of 1964 prohibit unequal pay on the basis of sex and provide for substantial remedies in instances where gender-based pay differentials do occur. In contrast, the Paycheck Fairness Act would prohibit many legitimate, non discriminatory practices that retailers use to attract and retain talent and would create uncertainty  under the law."
However, advocates say the Paycheck Fairness Act is necessary to address the inequities that have plagued women and minorities in the U.S. for decades.
"The Paycheck Fairness Act is sorely needed to make it easier for women to challenge pay discrimination – it addresses some of the key factors that research shows perpetuate pay discrimination: lack of transparency, the importing of discrimination by relying on prior salary in hiring decisions, the lack of monitoring and oversight, and the lack of real remedies," Ariane Hegewisch, Senior Research Fellow at the Institute for Women's Policy Research, told ConsumerAffairs.
"The gender wage gap- the fact that it has hardly budged at all during the last 20 years, that at the current rate of progress, it will take 200 years (!!) for Latinas to reach equal pay with white men, and 130 years for Black women- is a key indicator for the structural inequalities IWPR is working to tackle."