---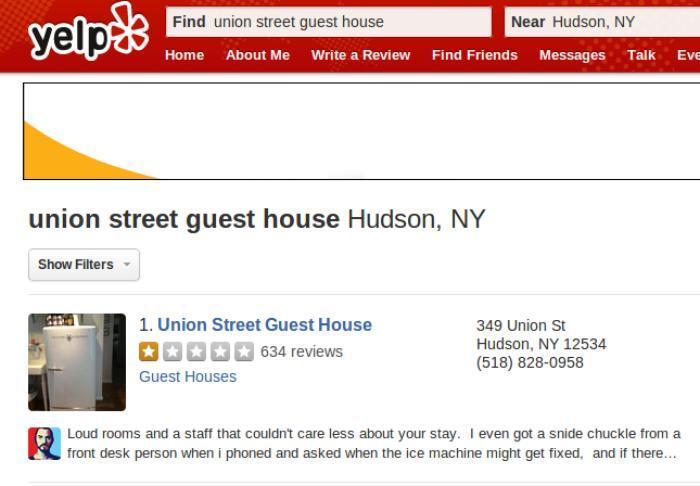 According to an alarming story published in the NY Post's "PageSix," any unhappy guest of the Union Street Guest House in Hudson, New York will be fined $500 for any negative reviews they or their guests leave on social media sites:
The Union Street Guest House, near Catskills estates built by the Vanderbilts and Rockefellers, charges couples who book weddings at the venue $500 for every bad review posted online by their guests.

"Please know that despite the fact that wedding couples love Hudson and our inn, your friends and families may not," reads an online policy. "If you have booked the inn for a wedding or other type of event . . . and given us a deposit of any kind . . . there will be a $500 fine that will be deducted from your deposit for every negative review . . . placed on any internet site by anyone in your party."

If you take down the nasty review, you'll get your money back.
The Post did not link to this online policy, nor post a screenshot of it, and as of noon, neither the "Rates and Policies" nor the "Events & Weddings" pages on the Union Street Guest House website made any mention of this harsh policy. Indeed, the "Events & Weddings" page said (as of noon, Aug. 4): "We do not discuss our policy, availability or rates on site. All correspondence for a wedding must be done via email so that each of us has a clear record of our agreement."
One-star reviews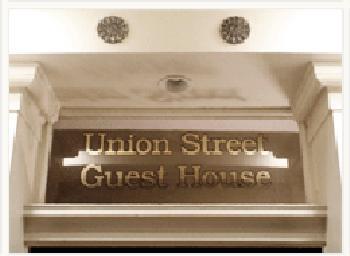 The Post published the story at 1:03 a.m. on today. Later, a visit to the Yelp reviews for the Union Street Guest House yielded literally dozens of pages of one-star reviews, all dated Aug. 4 and almost all referencing the $500 fine mentioned in the newspaper story.
I clicked through 13 pages of one-star Yelp reviews mentioning the Post story and review fine before finally finding a pre-story review, posted Aug. 2, from "Mike S." in Stamford Connecticut, who said:
I was planning a stay at Union Street Guest House until I discovered the most customer-UNFRIENDLY and obnoxious set of polices I have experienced at any property. Furthermore, when I inquired about the polices by email I received this reply "Every business has a reason for their policies. The beautiful thing about our great State of New York is that we can have any policy that we want as long as it is written on our website. It's up to you to decide whether you want to adhere to it or not before you make a reservation."
Mike went on to list a litany of complaints about their reservation and cancellation policies, and ended with: "I left out examples of a few other unfriendly polices (such as reducing the value of a gift card, potential 'handling fees' that are not fully disclosed, etc.) in order to keep this review brief, but I suggest anyone considering a reservation reads the full set of polices here," followed by a link to their rates & Policies page.
That said, Mike's complaint made no mention of a fine for posting online negative reviews.
Dig back
But dig further back through the Yelp reviews and eventually you'll find a Sept. 23, 2013, comment from "Rabih Z." in Alexandria, Virginia, who posted a one-star review starting with : "This place was such a disappointment! Avoid at all costs!"
Rabih updated his review on Nov. 21:
The management of this hotel had the gall to email us twice to threaten us financially about the negative review! Here is an excerpt from their first email:

"please note that your recent on-line review of our Inn will cost the wedding party that left us a deposit $500. This money be charged via the deposit they have left us unless/until it is removed. Any other or future reviews will also be charged to the wedding party (bride & groom) from the guarantee they have provided us. "

Disgusting! Instead of taking responsibility and striving to improve their customer service, they instead resort to intimidation!
For its part, the Union Street Guest House posted an update on its Facebook page shortly after noon on Monday, saying:
The policy regarding wedding fines was put on our site as a tongue-in-cheek response to a wedding many years ago. It was meant to be taken down long ago and certainly was never enforced.
The Facebook members who commented on the post didn't seem to buy it. One typical commenter wrote: "Not that you'd read this (hotel folks) but if you scroll all the way back to the beginning post on Yelp, the VERY FIRST POST was a complaint. Actually, quite a few complaints scattered in there... one lady pasted the EMAIL you sent her regarding bad guest reviews on Yelp. You should stop lying now and just hole up in that house for a year and eat tuna and crackers. You're talking yourself into the poorhouse."
---