---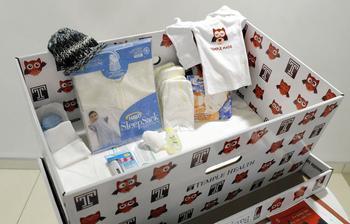 All this year, moms who deliver their babies at Philadelphia's Temple University Hospital will be sent home with something extra: a box for their babies to sleep in.
Manufactured by the Baby Box Co, the boxes are a no-frills version of a bassinet. They come with a sheet and mattress and are packed with around $80 to $100 worth of essential baby supplies.
The goal of distributing these boxes is to decrease the rate of "co-sleeping" by sending parents home with a safe place for their baby to sleep.
Lowering infant mortality rates
Co-sleeping -- or, the practice of parents sharing the same bed with their new babies -- is especially common in North Philadelphia. Many parents view it as part of their culture, while others opt for co-sleeping due to their inability to afford a crib.
When paired with the fact that North Philadelphia has one of the highest infant mortality rates in the country, it's easy to see the potential benefit of the program. Doctors have also been pleasantly surprised by how well-received the boxes have been.
"We weren't sure how people were going to react to putting their babies in a box, but it's been an overwhelmingly positive response," Dr. Megan Heere told ABC News.
The baby box distribution project is the result of a collaboration between Temple pediatrics and Temple's maternity nurses and is part of the Sleep Awareness Family Education at Temple (the SAFE-T program). The program is the first of its kind here in the U.S., but we're not the first to come up with the idea.
Temple's program mirrors one implemented by the Finnish government. Since the 1930s, the distribution of baby boxes has successfully lowered Finland's high infant mortality rates. The country now has one of the lowest infant mortality rates in the world.
Experts will analyze the results of the year-long program at the end of its third phase, which began May 3 (phase one began January 15). Analysis will determine whether or not the program was successful in increasing safe sleep education among new moms in North Philadelphia, as well as what effect it had on high risk behaviors associated with Sudden Unexpected Infant Death (SUID).
Dr. Heere says the research has the potential to change the way we educate mothers about newborns.
---