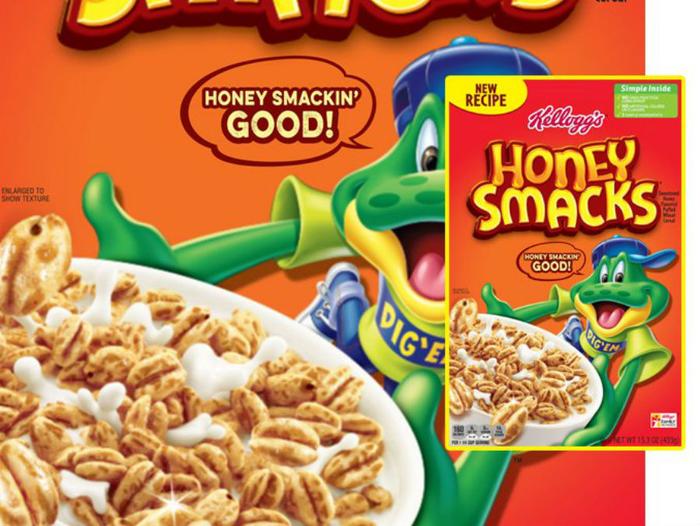 Four months after a salmonella outbreak led to a multi-state recall of Kellogg's Honey Smacks cereal, the honey-flavored puffed wheat cereal is headed back to store shelves in limited quantities.
Starting in November, consumers can once again purchase Honey Smacks. However, the cereal will have been made with "a simpler, updated recipe," according to a press release from the Kellogg Company.
Boxes of Honey Smacks that feature the new recipe will be marked with bright yellow triangle in the upper left portion.
Kellogg's said it's "excited to relaunch the beloved cereal to our loyal fans this fall" and noted that the cereal will now be produced in a "trusted and tested" company-owned facility. Before the salmonella concerns surfaced, the cereal was made at a third-party plant. The FDA said it found "serious violations" during an investigation of the facility over the summer.
Infected 135 people
The return of the cereal follows a massive recall of Honey Smacks back in June over concerns of potential contamination. An estimated 11 million boxes of Honey Smacks were pulled from stores in more than 30 states. After reports of illnesses began surfacing, health officials stressed that consumers should not eat or purchase the cereal.
In September, the CDC reported that tainted Honey Smacks cereal was linked to 135 illnesses in total. The illnesses affected people in 36 states, and at least 30 were hospitalized for their symptoms. The CDC has since closed its investigation into the outbreak.