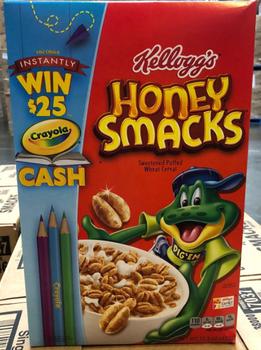 Honey Smacks cereal, which was recalled in June due to the potential for Salmonella contamination, has been linked to another thirty illnesses, the Centers for Disease Control and Prevention (CDC) said. That brings the total number of illnesses to 130 cases in 36 states.
On Tuesday, the CDC stressed that retailers are not legally allowed to sell any Kellogg's Honey Smacks cereal and that customers should not buy or eat the potentially tainted cereal.
This week, the Food and Drug Administration (FDA) expressed concern that some consumers may still have boxes of the cereal or have bought it, as it is still being sold in some locations. However, consumers should not purchase any Honey Smacks cereal, regardless of its package size or best buy date.
"Do not eat"
"Get. Rid. Of. The. Honey Smacks. If they're still in your cabinet, toss them!" the agency tweeted on Tuesday. "Do NOT eat. Do NOT buy – retailers can NOT legally sell."
The latest illnesses were reported across 19 states, including three that weren't on the CDC's previous advisory -- Delaware, Maine, and Minnesota. Illnesses in this outbreak started on dates ranging from March 3 to Aug. 7, the CDC said.
Health officials are advising people who may have gotten sick from eating recalled Honey Smacks cereal to contact a healthcare provider. Symptoms of Salmonella typically show up between 12-72 hours after being exposed to the bacteria and can include diarrhea, fever, and abdominal cramps.
Consumers who bought the potentially affected product can contact Kellogg's for a full refund, the company said in a statement. The CDC says the investigation is still ongoing and that it will continue to provide updates.