---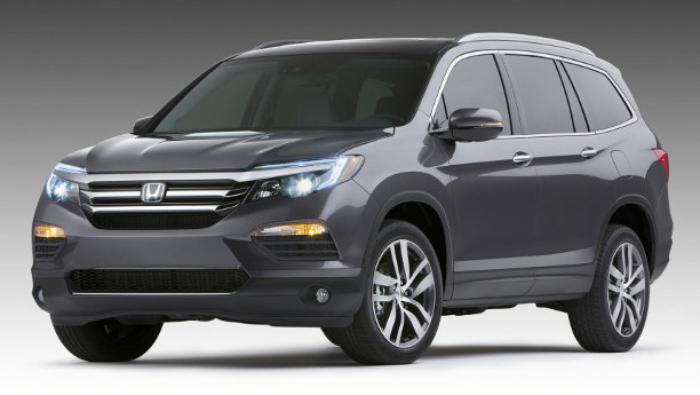 The Honda Pilot has always enjoyed a good safety reputation, and the latest safety tests from the Insurance Institute for Highway Safety (IIHS) has done nothing to diminish that. Rather, it's improved that reputation.
The newly redesigned 2016 midsize SUV came through IIHS' small overlap front test with flying colors. Its available front crash prevention system earned a superior rating, helping it qualify for the 2015 Top Safety Pick+ award.
"The 2016 model's good small overlap performance is a dramatic change from the earlier generation Pilot, which rated poor," IIHS said in a statement
Front quarter, head on
The small overlap front test consists of a head on collision in which a front quarter of the vehicle encounters a hard, stationary object. In the past, it has been a particularly challenging test for most small and midsize SUVs, including the Pilot.
The IIHS video below demonstrates the test and shows how destructive it can be.
In the test of the latest model Honda Pilot, the driver space held up well, with maximum intrusion of four inches at the parking brake pedal. The test results reveal the dummy's movement was well-controlled, with the front and side curtain airbags working well together to keep the dummy in place and protect the head from contact with the intruding structure and outside objects.
The IIHS stated that measures taken from the dummy showed a low risk of any significant injuries in a crash of this severity.
Significant improvement
For the Pilot, it's a significant improvement. While the car scored well in many tests, the 2014 Pilot did not fare well in the small overlap front test. In fact, the driver space was "seriously compromised," suggesting injuries to the driver.
In last year's test the parking brake pedal moved nearly 17 inches inward, and the door hinge pillar moved in about 14 inches. Video shows the dummy's head barely contacted the front airbag before sliding off to the left, as the steering column moved to the right and toward the driver. The side curtain airbag didn't extend far enough forward to protect the head.
The new Pilot, like the previous models, scored good ratings in the Institute's four other crashworthiness tests — moderate overlap front, side, roof strength, and head restraints.
Top Safety Pick+
When equipped with front crash prevention, the Honda Pilot qualifies for a Top Safety Pick+ award.
Vehicles must earn a good or acceptable small overlap rating and good ratings in the four other tests to qualify for that ranking. To earn a plus sign, vehicles must also have an available front crash prevention system that garners an advanced or superior rating.
IIHS engineers rated the Pilot's optional system "superior." They say the autobrake prevented a collision in the Institute's 12 mph track test and cut the vehicle's speed in half in the 25 mph test.  
---