---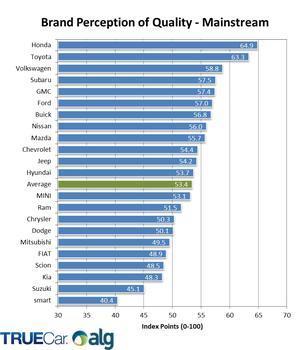 Honda and Mercedes lead the way in a survey of new-vehicle buyers for quality and value.
Honda topped the rankings of mainstream brands, followed by Toyota, Volkswagen, Subaru, GMC, Ford, Buick, Nissan, Mazda and Chevrolet, according to the ALG study.
Mercedes-Benz was first among luxury brands, followed by Lexus, BMW, Porsche, Audi, Maserati, Infiniti and Acura.
"There are several measures of vehicle quality in the marketplace, measuring everything from long-term durability to fit and finish. However, when it comes to forecasting vehicle value for a brand, the data shows that perception, more so than reality, is a much better predictor," ALG, a division of TrueCar, said in a statement accompanying the findings.
"When consumers buy a car, brand perception directly impacts how quickly the vehicle will depreciate," ALG President Larry Dominique said. "When deciding on a car purchase, consumers need to consider more than just build quality -- they need to consider how the brand is perceived in the marketplace."
The study was based on a survey of 30,000 recent car buyers.
---