---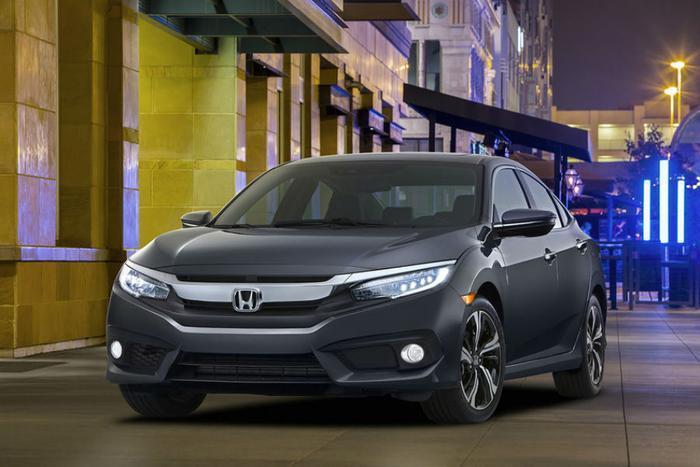 Honda has essentially returned to the drawing board to redesign one of its best-selling models, the Civic sedan. The carmaker took the wraps off the 2016 model this week, saying it will be in dealer showrooms in the fall.
Honda has been making the Civic for 43 years and the new model year will include a sedan, coupe, high-performance Si models, a 5-door hatchback, and the first-ever Civic Type-R model for the U.S. market.
"This tenth-generation Civic is quite simply the most ambitious remake of Civic we've ever done," said John Mendel, executive vice president of American Honda Motor Co, Inc. "We are bringing more new technology and innovative thinking to Civic than ever before to establish a new benchmark for fun-to-drive performance, fuel efficiency, safety performance and refinement in the compact class."
Two new engines
What's new for 2016? Honda says for the first time the 2016 Civic will feature two new engines – including the first-ever application of Honda turbo engine technology in the U.S.
There are also new exterior changes, including new chassis and body designs that Honda says will also contribute to improved fuel efficiency.
Inside, the Civic will offer smartphone integration with a new, 7-inch high-definition display audio touchscreen for more connectivity. It features Apple CarPlay, which integrates a user's iPhone with the dash display.
That feature provides the ability to get directions, make calls, send and receive messages, and listen to music from the touchscreen or by voice via Siri. Supported apps include Phone, Messages, Maps, Music, and compatible third party apps.
Pressure's on
"The last Civic redesign was not well received, which puts Honda under some pressure this time around," said Karl Brauer, senior analyst at Kelley Blue Book. "But early indications suggest the 2016 Civic will be a big leap forward in terms of styling, technology and performance. This car has spent most of its history as the benchmark in the compact car class, and Honda wants to see it convincingly retain that position."
One of the headwinds the Civic may face in the current market is consumers' recent infatuation with trucks and SUVs. Low gasoline prices have removed some of the incentive to purchase a smaller, fuel efficient vehicle.
But Honda is counting on the model's long history and the stylish flourishes to lure consumers back. Its new ad campaign is designed to stoke nostalgia among the millions of consumers who have driven a Civic in the past.
And millions have driven one. The first Civic was introduced in 1972, when foreign-made cars were still a novelty on American highways. Today, Honda says American car buyers have purchased more than 10 million Civics throughout its 43 years in the U.S. market.
---